Frazier demonstrating defensive improvement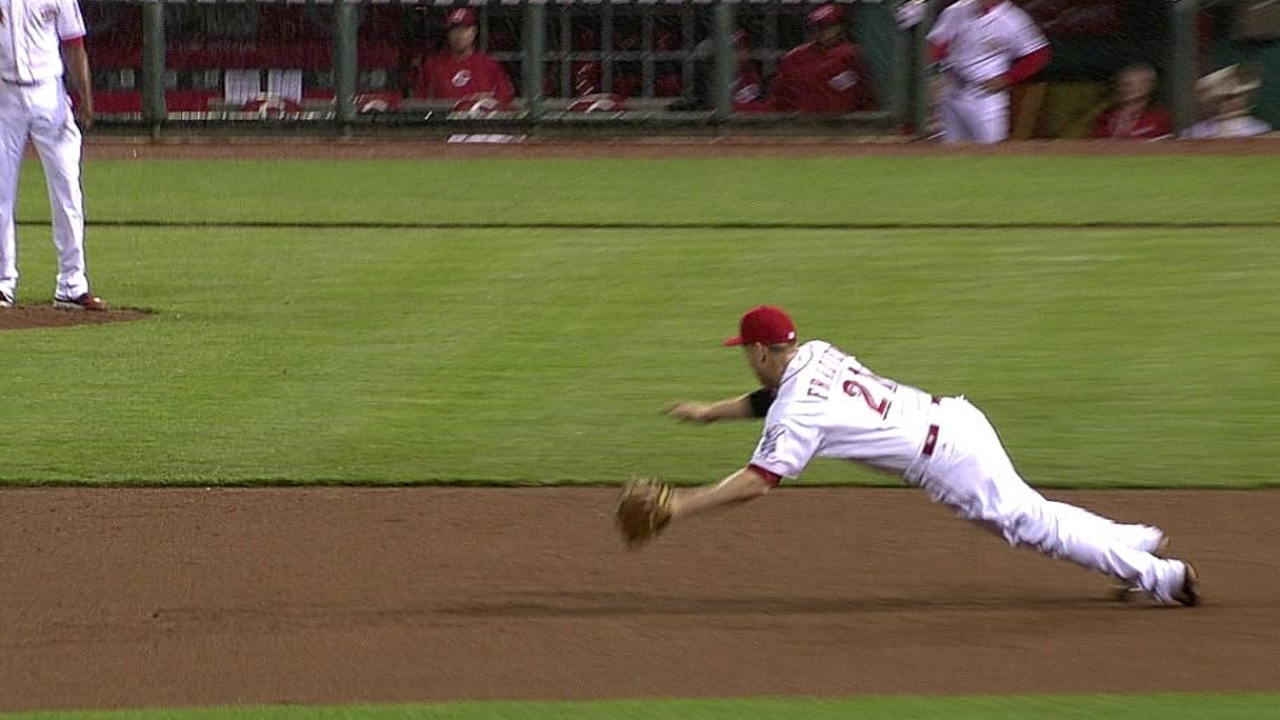 CINCINNATI -- During Tuesday night's game vs. the Phillies, just before it was suspended by rain in the ninth inning, Reds third baseman Todd Frazier made a nice diving stop on a hard one-hop grounder to his left that robbed John Mayberry Jr. of a hit. The game was scoreless, which made the play even more clutch.
"That felt good," Frazier said on Wednesday. "You never really know what can happen there. I was trying to knock it down. It actually came back as I dove. I had to alligator-arm it a little bit. When I came up, I just had to fire it over there."
Replacing an eight-time Gold Glove winner in Scott Rolen, Frazier made defensive improvement a priority in the offseason. He focused on agility and footwork during workouts near his New Jersey home and worked with bench coach Chris Speier during Spring Training. The results have been evident as Frazier has been steady thus far, while making several sparkling plays.
"Fraz works hard. It just doesn't happen because you wake up in the morning," Reds manager Dusty Baker said. "He put in the work. ... Plus, it's helped that he's played one position for the first time in his life."
Frazier has previously played every infield position and left field, and primarily the corner infield spots last season. But playing third base regularly has become a good fit and very comfortable.
"It helps me out a ton -- first and foremost, it helps out my arm," Frazier said. "Secondly, all I have to worry about is one position. I don't have to worry about first base or left field or something like that. It keeps me calm. It's like the biggest thing for me -- being calm out there defensively, trying to be solid. Third base is basically knocking down balls in those late innings."
Mark Sheldon is a reporter for MLB.com. Read his blog, Mark My Word, and follow him on Twitter @m_sheldon. This story was not subject to the approval of Major League Baseball or its clubs.