Chapman thriving, but workload will lessen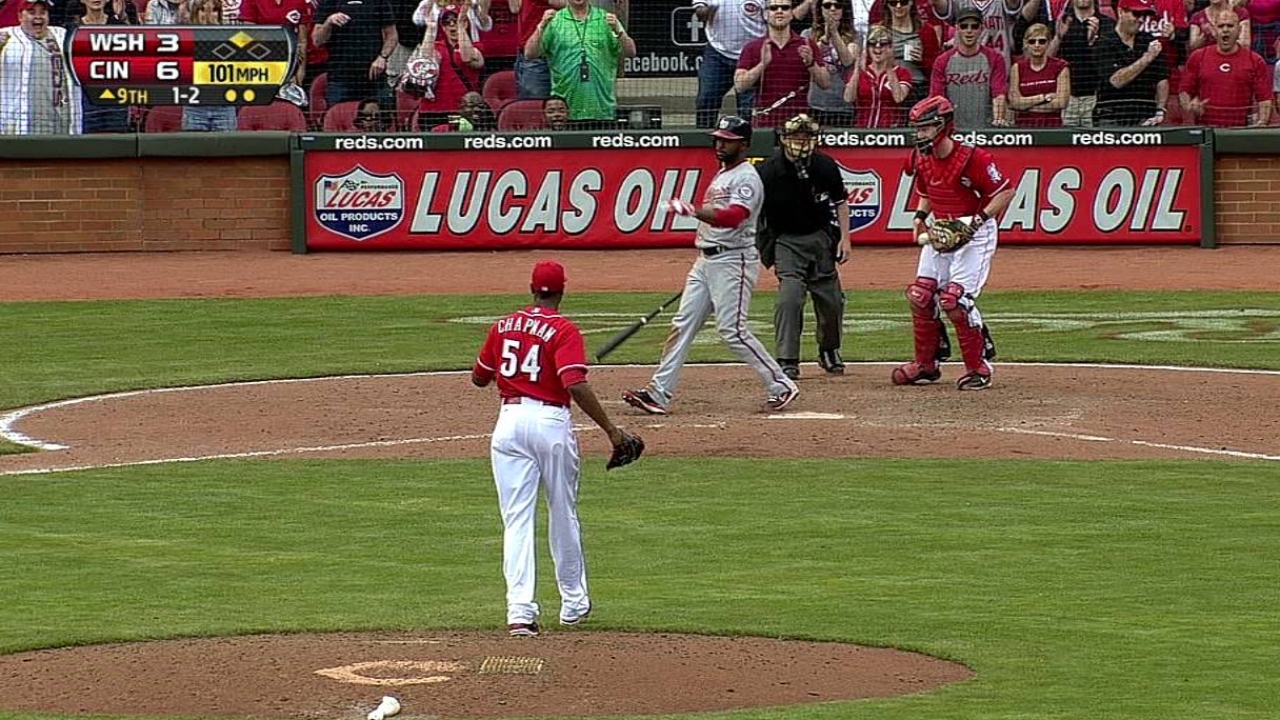 ST. LOUIS -- For those who hoped Aroldis Chapman would be the Reds' closer, because it meant more possibilities to see him pitch, have not been disappointed. Chapman came into Monday having worked five of Cincinnati's six games, including the previous two.
Chapman, who is 2-for-2 in save situations, has entered three games with the score tied and earned a victory against the Angels on Wednesday. The lefty has also struck out six of his last eight batters.
Reds manager Dusty Baker hoped to avoid using the left-hander during the series opener at St. Louis. Ditto for Jonathan Broxton, who has also worked two consecutive days.
"Broxton hasn't thrown as many pitches as Chapman," Baker said Monday morning. "It would be nice to have one today, one tomorrow and both the next day. Then we have an off-day. A complete game would cure everything."
Don't expect as much frequency of Chapman's appearances as the regular season wears on.
"We're going to do it the same way we did it last year," Baker said. "We have to take care of him and protect him, too. Fortunately for us, we've had off-days. Soon, we're not going to have off-days. The next stretch we're going 20 days in a row. Guys will be more acclimated to go consecutive days than they were at the start of the season. Our starters will hopefully be sharper and go deeper in games."
As for the bullpen in general, Baker wouldn't mind if no games go to extra innings for a while. The group, which was without lefty Sean Marshall until Sunday, has been taxed early.
"You hate that coming out of Spring Training, because nobody is used to it," Baker said. "They barely got to work two days in a row. At Spring Training, they were working one every two days, once every three days. Then all of a sudden, it's boom."
Mark Sheldon is a reporter for MLB.com. Read his blog, Mark My Word, and follow him on Twitter @m_sheldon. This story was not subject to the approval of Major League Baseball or its clubs.