Mesoraco embracing competition for roster spot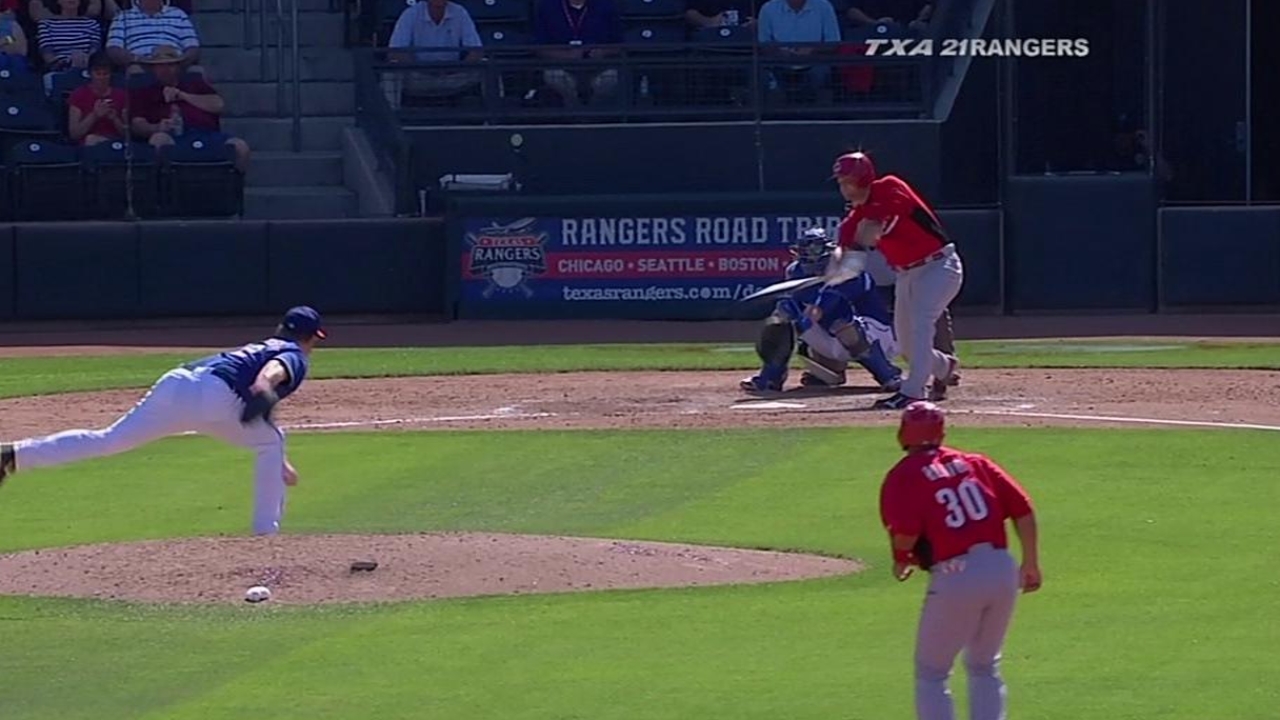 GOODYEAR, Ariz. -- Unlike last spring, Devin Mesoraco knew his roster status during camp this year was not a stone-cold lock. The catcher was aware he would have to earn a spot.
Mesoraco, who is competing with non-roster invite Miguel Olivo for the spot behind primary catcher Ryan Hanigan, has acquitted himself very well. Mesoraco is batting .361 (13-for-36) this spring, even after a 0-for-4 game on Monday vs. the Mariners that snapped his team-high eight-game hitting streak.
"I feel like I came in with a good plan and came in prepared," Mesoraco said. "I knew it was going to be a little bit different thing than last year. I had to prove myself. I'm happy with the way I've played and with the way things have turned out.
"It means a little more, because I did have to show I could produce. At the same time, I feel like it's not that many at-bats. Things tend to even out to the mean over time."
During his rookie season, Mesoraco batted .212 with five home runs and 14 RBIs in 54 games. He struggled with the nuances of starting two out of five days of the pitching rotation.
If Mesoraco makes the club, he would likely catch primarily for Homer Bailey and Mike Leake -- the Nos. 4 and 5 starters, respectively. Mesoraco has caught both pitchers' last few starts, including Bailey on Monday.
"I think it will be a lot smoother," Mesoraco said. "I do have an idea going into it how to prepare myself to have three days off, if that's what happens. I've done it before. Going into last year, I didn't know what to expect, playing-time wise. I never had more than one day off coming up my whole career.
"This upcoming year, with the knowledge I gained last year, it should be an easier adjustment. There are certain things I can do to help alleviate those problems, whether it's just hitting more or going out taking my BP a little more seriously, whatever it is. I can do a better job of preparing myself for the situation, as opposed to last season."
Mark Sheldon is a reporter for MLB.com. Read his blog, Mark My Word, and follow him on Twitter @m_sheldon This story was not subject to the approval of Major League Baseball or its clubs.