Journeyman Miller commands respect of Reds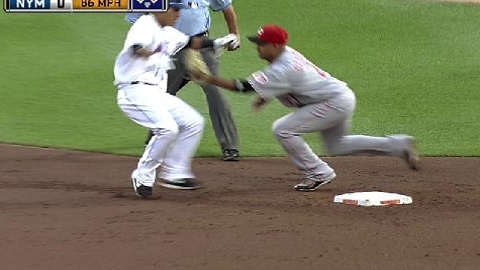 GOODYEAR, Ariz. -- It's not every day that a player with a .188 career batting average in the big leagues and 15 years of Minor League experience has a bobblehead created in his likeness. But catcher Corky Miller commands respect inside the clubhouse and outside with the fans.
Triple-A Louisville is giving away 2,500 mustachioed Miller bobbleheads at its April 6 game against Toledo. Miller was also a popular draw in January when he was on a leg of the Reds Caravan that included a stop at Louisville Slugger Field.
"It meant a lot to me. It sure meant something to the people in Louisville," Miller said of the caravan stop. "They've been great to me. It's nothing new with those people. It's the kind of reception I get all the time from the people down there, whether the team is doing good or not, or whether I am doing good or not. They've always been real excited to see me and I'm always excited to see them."
Despite being 37 and in pro baseball since 1998 with several clubs, Miller has only 199 games logged in the Majors and none since 2010 with the Reds. For the fourth year in a row, he is in Reds camp as a non-roster invitee due to his skills as a catcher and keen ability to work with all pitchers.
While often quiet, Miller speaks with authority among teammates. A couple of springs ago when some younger players complained about having to go to a team function to sign autographs, Miller overheard and told them, "If you don't like it, play worse."
"Corky is a pro," manager Dusty Baker said. "I told Corky last year that I felt one day he would make a fine pitching coach. He knows pitchers. He calls an excellent game. He knows when they are doing something mechanically wrong. I told him to watch [catcher Devin] Mesoraco because Mesoraco really respects him. He's not a coach yet, but he's on the way. I want to try and keep him as long as I can. If something happens in the course of a season, Corky has done a good job when he comes up. Corky is a good team man."
Miller is not expected to make the Reds' 25-man roster, but he remains hopeful that he could eventually get another taste of the big leagues before retiring as a player.
"Obviously, I'm not playing to play in the Minor Leagues," Miller said. "I wanted to come to camp again and be ready in case something happens to somebody else. I want to help the club, get to know the guys and understand what they want to do. The big leagues are the goal everybody has."
Miller has never complained about going back to the Minors. For some players, experiencing the big leagues and going back down is harder than never going at all. And he's been back and forth several times since his big league debut during his first tenure with the Reds in 2001.
"I wouldn't know any other way," Miller said.
As for his future in coaching? Not just yet.
"We'll see," Miller said. "I'm sure we'll talk about it when the time comes. We've had conversations before. I still feel like I can play and they obviously do. That's why I'm here."
Mark Sheldon is a reporter for MLB.com. Read his blog, Mark My Word, and follow him on Twitter @m_sheldon This story was not subject to the approval of Major League Baseball or its clubs.