Frazier making strides with bat and glove in spring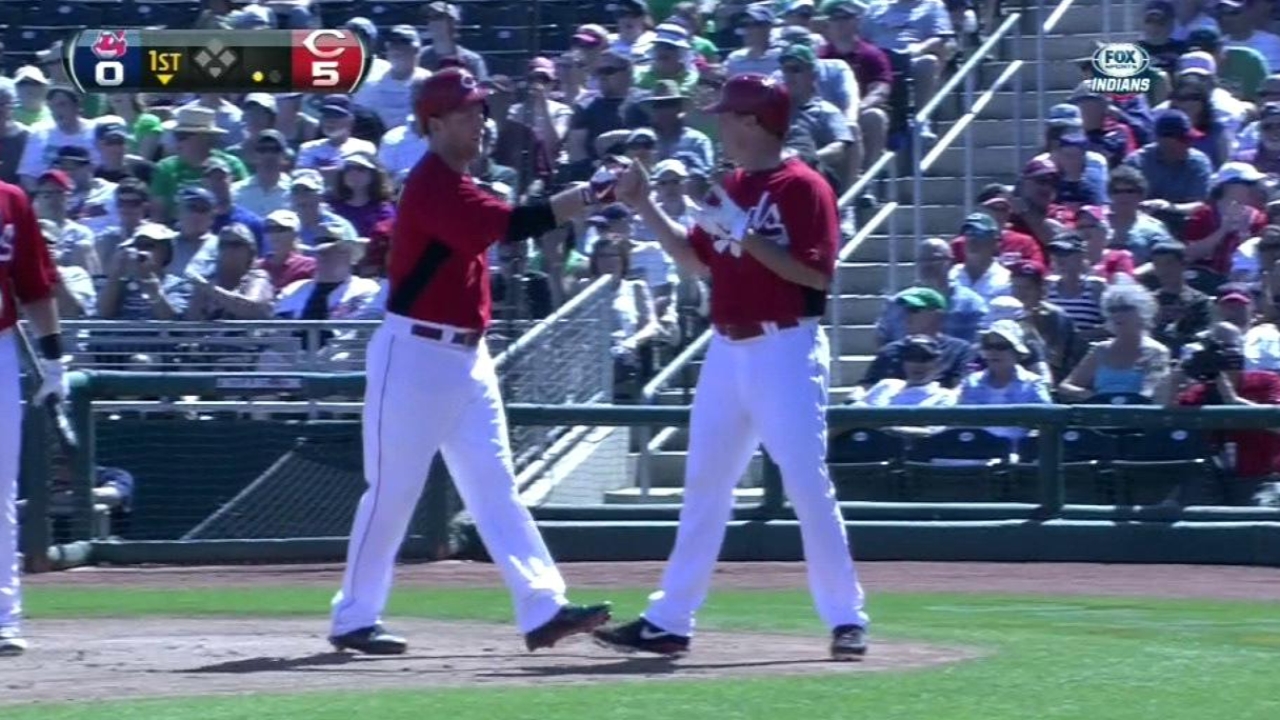 GLENDALE, Ariz. -- After a slow start at the plate in Spring Training, Reds third baseman Todd Frazier has come on strong the past couple of weeks. In his past 10 games, Frazier is 9-for-27 (.333) with three home runs and 10 RBIs.
"We've got nine or 10 more games left, I'm just trying to square the ball up basically," Frazier said on Friday. "If you get a hit, you get a hit and if not, you don't. Dusty [Baker] always says when you get that first pitch, to go after it. Squaring balls up is a good sign because it means your bat head is coming through the zone level and you're getting that extension."
Frazier was 1-for-3 with an RBI single up the middle in the first inning vs. the Dodgers on Friday. On Thursday vs. Oakland, he hit a two-run homer.
"I just keep my aggressive nature but I understand that you don't need to swing at everything," Frazier said. "That's something I'm still learning about and taking some pitches. I know I hit the home run but basically I was just trying to get [the runner] in. I guess when something is good, more is better. In my second at-bat, I hit a one-hopper to shortstop, but I squared it up so I was pretty happy with that. We're not hitting lazy fly balls anymore."
Defensively, Frazier is also making progress. Like second baseman Brandon Phillips, he takes infield practice with a smaller glove to improve his handwork.
"I feel real good," Frazier said. "[Instructor] Miguel Cairo is letting me use his glove. I have to order one actually. I feel more handsy over there instead of feeling it with the glove. Defense is something I take pride in. Hopefully, one day, I can be at the level where I need to be. I think I am almost there."
Mark Sheldon is a reporter for MLB.com. Read his blog, Mark My Word, and follow him on Twitter @m_sheldon This story was not subject to the approval of Major League Baseball or its clubs.