Prior trying to make an impression with Reds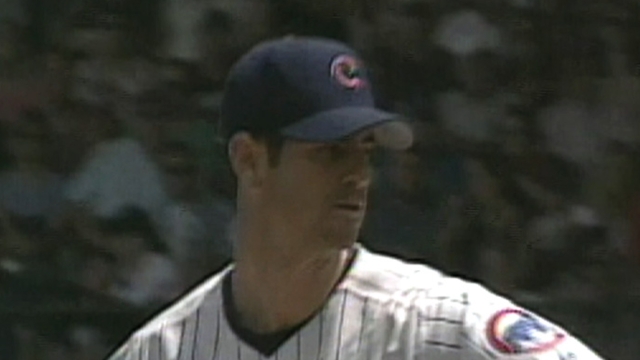 SCOTTSDALE, Ariz. -- Pitcher Mark Prior wears a Reds uniform with his familiar No. 22 on the back, but his locker isn't among those in the Major League clubhouse.
No, it's around the corner and down the hall. Prior, who signed a Minor League contract with Cincinnati on March 1, is among the rows and rows of stalls in the Minor League clubhouse that has teammates that are comparatively still kids.
"Some of these guys were born in 1995," Prior noted on Monday. "They were seven or eight years old when I broke in and I broke in young. I think it surprises people when I tell them I'm 32 because they think I should be older.
"Fortunately, or unfortunately depending on how you're looking at it, I've been in extended [spring] and around a lot of Minor League guys. They have enthusiasm for the game. I'm on the back side of my career. They're on the front side. You enjoy seeing their desire to play and their will to play. It's refreshing. I can't keep up with them necessarily running and stuff. They keep you having fun. They're fun to hang out with. I've enjoyed my time in the Minor Leagues the last few years. I don't want to be there, nobody wants to be there, but it's a good bunch of guys."
Prior was once a young phenom for the Cubs from 2002-06, which included an All-Star 2003 season when he won 18 games and helped lead his team to the playoffs.
Because of a shoulder injury and reconstructive surgery, Prior hasn't thrown a pitch in the Majors since 2006. The past three years have been a long comeback attempt in the Minors as a reliever, an attempt he's trying to continue with the Reds.
Prior worked one inning of relief Monday against the Indians in a Triple-A game on a back field at Cleveland's complex. So far, he's had two games and an intrasquad game and says his velocity has generally been at 90-91 mph. On Thursday, he is scheduled to appear in a big league Spring Training game for the Reds against the A's at Goodyear Ballpark.
To this point, Prior has been pleased with his performances. He's also been free of pain.
"I tend to be living down a little bit more early on, which is a good result," Prior said as he made the walk from the Indians complex to the Reds facility down the street. "It's three outings, so there's not a lot of stock in it. But it's nice to see some things that you've worked on have helped."
Mark Sheldon is a reporter for MLB.com. Read his blog, Mark My Word, and follow him on Twitter @m_sheldon This story was not subject to the approval of Major League Baseball or its clubs.