Minus one pitch, Homer content with performance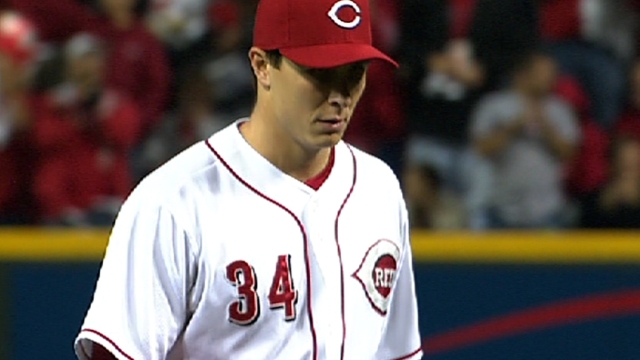 PEORIA, Ariz. -- Homer Bailey had a turbulent outing against the Mariners on Thursday, despite leaving with a four-run lead. He gave up a double and the first of two homers to Michael Morse on a day the Reds' staff was pegged for three long balls in a slugfest that found Cincinnati falling off the pace after Bailey left the mound.
"We executed a lot of pitches, got a lot of ground balls, which is what we were looking for," Bailey said. "One pitch, we kind of left middle that hasn't landed yet, but other than that, I feel pretty good."
Manager Dusty Baker agreed, saying Bailey pitched "really well," and that the problem was the Mariners' one-man attack from their cleanup hitter who scored the M's first run after his second-inning double, then plated the next two runs with his deep drive to left-center in the fourth. Morse finished 3-for-3 with five RBIs after mistreating Clay Hensley with a three-run shot in the fifth .
"Too much Morse today," Baker said. "We're pitching him wrong, evidently. Those balls were hit like a two-iron."
Bailey was tagged for three runs on six hits in four innings, and was able to challenge himself by using offspeed stuff in critical fastball counts.
"We mixed it up really well," Bailey said. "Probably threw some breaking balls that we wouldn't have thrown normally in certain counts, but it's good to have those in-action counts to be able to throw. It's a big count, you need a strike, you need a quality pitch. Let's throw it now, so in the season, if it's an important time in the game, you know, 'OK, I'm comfortable with this pitch.'"
Owen Perkins is a contributor to MLB.com. This story was not subject to the approval of Major League Baseball or its clubs.