Burriss enjoying fresh start in Cincinnati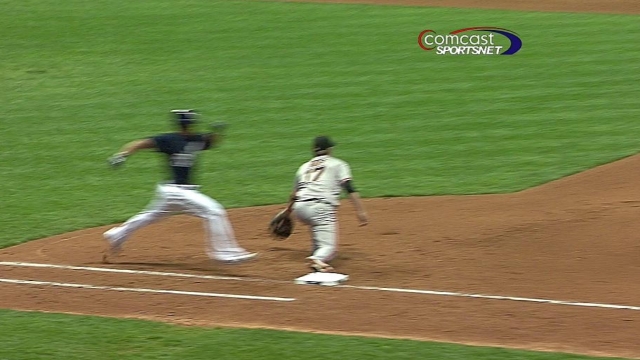 PEORIA, Ariz. -- Emmanuel Burriss' fresh start with the Reds after seven years in the Giants' organization meant breaking in a pair of fresh gloves, one for the infield, where he's played 255 games in parts of five big league seasons, and one for the outfield, where he's played two.
"I had to get rid of all my gloves, because they were all black and orange," Burriss said. "Last year, I had a third baseman's glove, and I think I borrowed someone's first baseman's glove from the Minors and kept it all season long. But now I just stick with my infielder's and outfielder's glove."
Burriss has played every position on the diamond except pitcher, catcher, and center fielder, but even as he prepares for his sixth big league season and competes for what he hopes will be his third Opening Day roster slot, he can't scrounge up a glove with his name on it.
"I talked to SSK [last year], and I wanted them to just give me a nice glove that I could fiddle around with, see what size I wanted," Burriss said. "So they sent me that one, and it said 'Pro Stock Model' or something on it, and everybody gave me a hard time, because it's like my fourth year in the bigs and I can't get a glove with my name on it. It was kind of like how things went last year, honestly, because I wasn't able to get that many at-bats. I kind of kept under the radar across the league."
Burriss was the Giants' Opening Day second baseman in 2009 and made the roster in a backup role after competing for the starting job again in 2012, but he made only 60 appearances with the World Champions, and when they outrighted him to the Minors after the season, he opted to sign a Minor League contract with the Reds, despite knowing the club had an infield stacked with Gold Glove Award nominees Jay Votto at first, Brandon Phillips at second and Zack Cozart at short.
"It's not a bad thing, being able to come out and work everything, rather than battle [last year] for a position that I probably wasn't going to get anyway, no matter how well I did," Burriss said. "It feels good to come in and focus on getting work in where I need to every day, rather than coming in and just trying to outperform somebody and not really working on anything that's going to help me throughout the season."
Burriss' rookie campaign was cut short when he broke his left toe in July 2009, and he was further slowed by a fractured left foot in Spring Training in 2010, limiting him to seven big league games that season. The challenge of being seen as an everyday player again eluded him in San Francisco, but he comes to Cincinnati with a clear understanding of his role.
"He was a starting shortstop before he got hurt, and then he was a starting second baseman and he got hurt again," manager Dusty Baker said. "He's got skills. He's very athletic, he's got speed, which is really needed around here. He hustles, and he can play a number of different positions. We need to get more athletic, and there aren't many athletes available."
Burriss is competing with Jason Donald and Cesar Izturis for a utility infielder job that is one of the more competitive battles this spring.
"Realistically, Donald has the upper hand because he doesn't have any options and he's on the roster," Baker said. "Izturis and Burriss are playing great, but they're going to have to play lights-out."
Owen Perkins is a contributor to MLB.com. This story was not subject to the approval of Major League Baseball or its clubs.