MLB.com Columnist
Jonathan Mayo
Reds' Arizona Fall League overview
Trahan motivated by Altuve, looking to take next step in AFL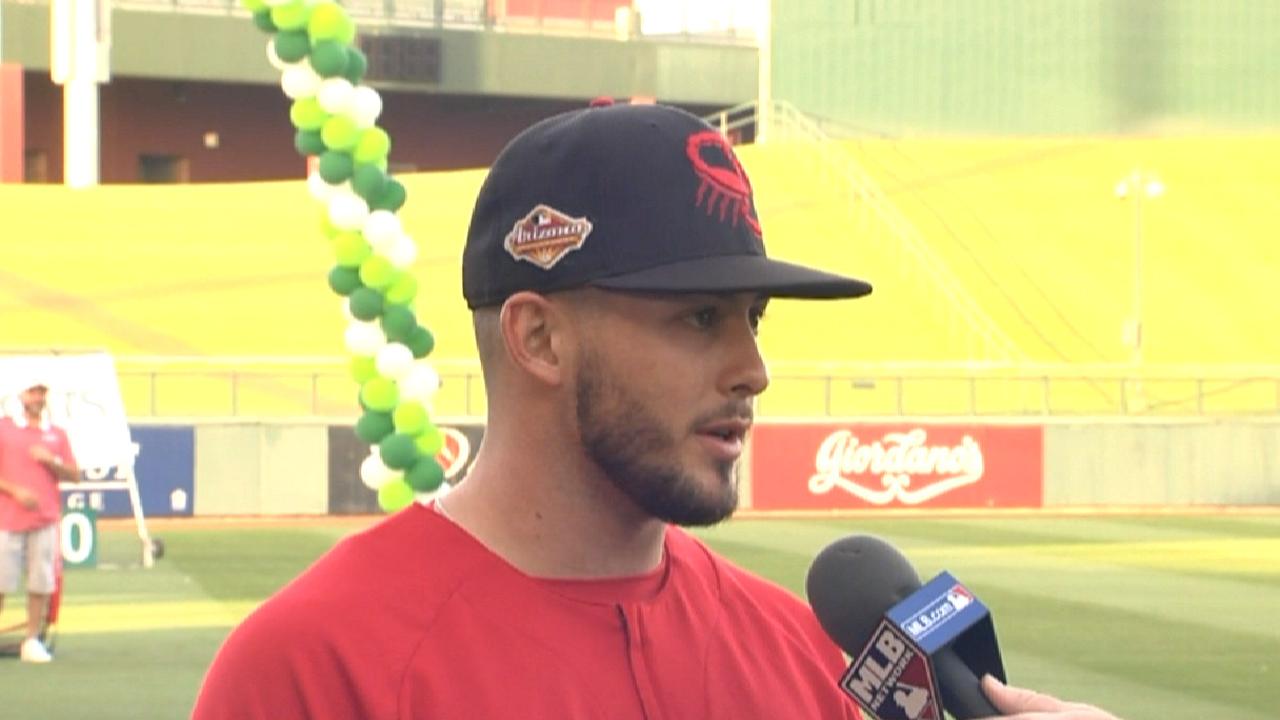 Blake Trahan has heard it before. At 5-foot-9, he's been told at various stages in his career, from high school to a fine college career at Louisiana-Lafayette, to today, that he isn't big enough to succeed. Like with many undersized players, he uses those doubts as fuel and feels fortunate to have a big league role model to follow.
"A lot of professional athletes are bigger guys," said Trahan, who played well enough at Louisiana-Lafayette to land with the Reds in the third round of the 2015 Draft. "But you look at [Jose] Altuve, he has the chance to win MVP. He's put a lot of hope in the little guy's heart, learning from him, seeing what he does. Us little guys, we have to have that edge. We have to be able to play harder than everybody else."
• Arizona Fall League roster & stats
Trahan and that positive attitude are currently in Arizona as the infielder ranked No. 27 on the Reds' Top 30 prospects list plays with the Scottsdale Scorpions in the Arizona Fall League. His own worst critic, Trahan was thrilled to head west to get more work in after his first taste of Double-A in 2017.
"It's definitely an honor to play in this league," Trahan said. "A lot of good players have played in this league. You want to follow in their footsteps and you want to hold yourself to that standard. I didn't have a great season and for me, it was another chance to show, work on some things and improve."
Trahan hit just .222 with an OPS of .585 over 136 games with Pensacola in the Southern League. The jump to Double-A didn't throw him off as much as it made him realize there are some things he needs to work on to master the level and move beyond it. "At the end of the day, it's still baseball," Trahan said. "You still see the same pitches, but the pitches are a little better. You have to figure out how to beat the pitcher to his spot.
"One thing is getting your swing shorter and working on certain mechanics. You try to shorten up and use all fields. Working with the swing and becoming a better hitter, a more complete hitter, being able to hit to all fields and having a great approach. That's something I work on, and it's something I look to take care of in this league."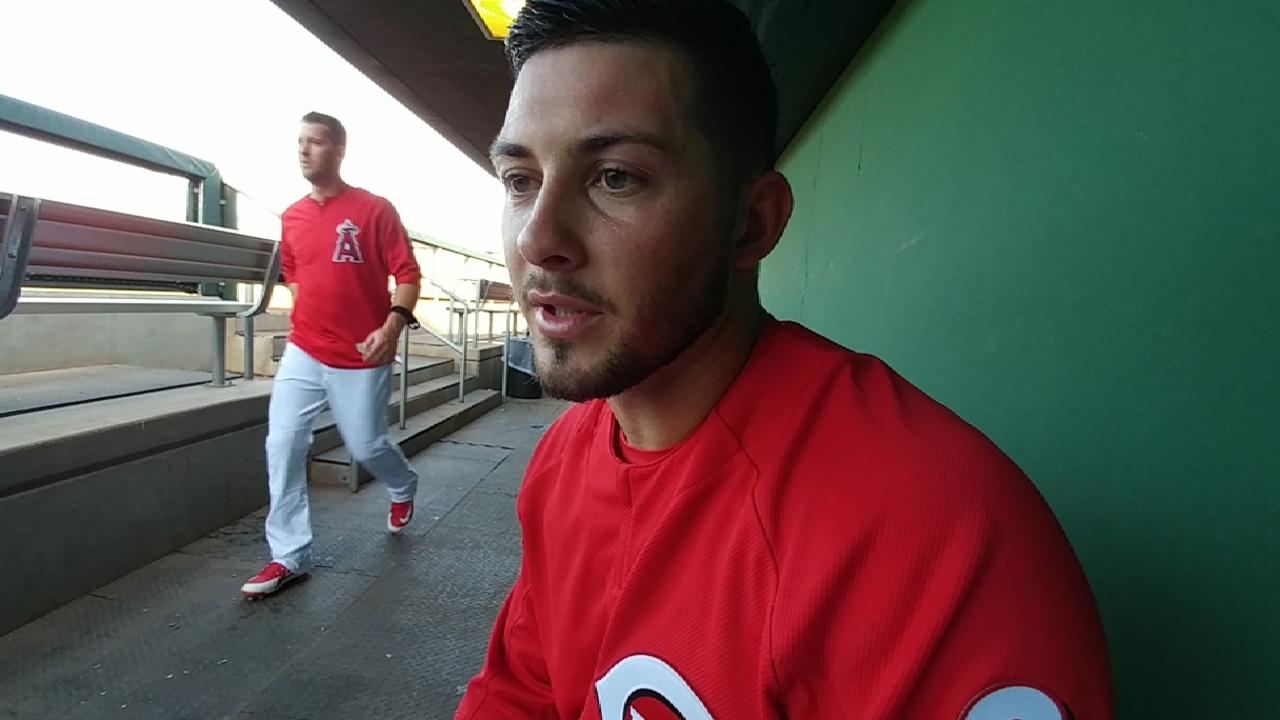 He's also learning how to play on the right side of second base. Outside of one game at third during his debut summer back in the Pioneer League in 2015, every professional game Trahan has played has been at shortstop. His ability to defend there is a source of pride, but he also sees the benefits of playing other positions, something he is doing this fall. "That's just another tool you can put in your pocket," Trahan said. "I've been working a little bit at second base, just to get more comfortable there. I feel I'm ready to go there. I'll get two games a week at shortstop and one at second.
"You want to be comfortable with being uncomfortable. When you do get out of position, whether it's a shift or another position, you want to be comfortable with that and be able to do your job. The ball's hit your way, you want to be able to make that play for your team."
Reds hitters in the Fall League
Chadwick Tromp, C -- The Aruban backstop was on Team Netherlands for the World Baseball Classic this past March, though he didn't get an at-bat. He earned a promotion from the Florida State League up to Double-A after batting .311 in 33 games with Daytona, though he struggled with the move (.204/.302/.239 in 119 at-bats with Pensacola).
Brantley Bell, 2B -- The son of Jay Bell, who managed the Tampa Yankees in the FSL in 2017, Brantley Bell gets to play for his dad with the Scottsdale Scorpions after facing him when he moved up to Daytona this year. The infielder struggled with the bat in 2017 (.232/.293/.300), though he did steal 29 bases. Work on his plate discipline (130 K's vs. 30 BB) is key in Arizona and beyond.
Taylor Sparks, 3B -- Sparks missed more than two months of the 2017 season because of a broken wrist, so he is using his time in the AFL to literally get back in the swing of things. He's always had legitimate raw power, even managing to homer 10 times in the 57 games he played this season, but he hasn't always made enough contact (460 K's in 366 career Minor League games) to consistently tap into it.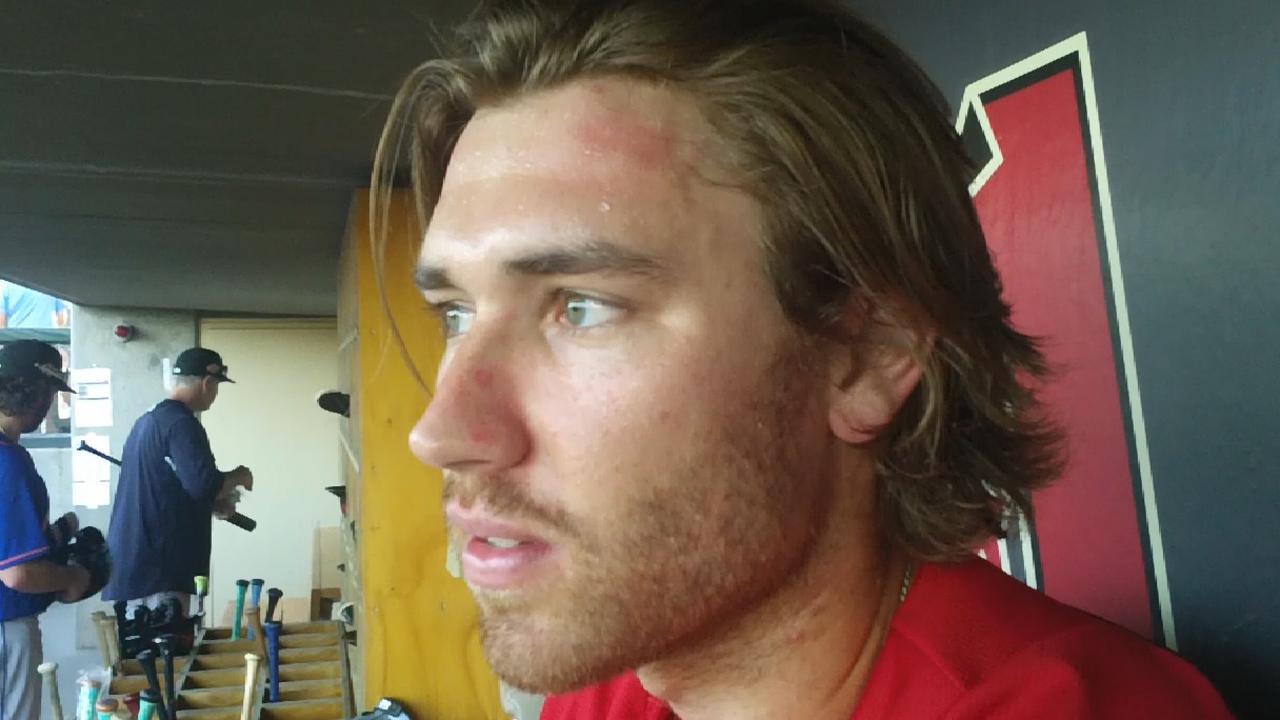 Reds pitchers in the Fall League
Wendolyn Bautista, RHP -- Signed in December 2012 at age 19 out of the Dominican Republic, Bautista made his United States debut in 2015 and has slowly made his way up the organizational ladder. He spent most of the 2017 season in the Florida State League, but he did make a double-jump to Triple-A for two outings in May and two more at the end of the year. His first two starts in the AFL (8 IP, 14 H, 11 ER) have not gone particularly well.
Joel Bender, LHP -- Bender missed all of the 2016 season due to Tommy John surgery and made it back for 20 total innings in 2017, mostly in the FSL, finishing with a 2.70 ERA and 26 strikeouts in 19 total outings. The left-handed reliever is making up for some of those lost innings with Scottsdale.
Brennan Bernardino, LHP -- A product of Cal State Dominguez Hills, Bernardino has been exclusively a reliever since the Reds drafted him in the 25th round of the 2014 Draft. The southpaw spent the 2017 season with Double-A Pensacola, striking out better than a batter per inning (42 K's in 40 1/3 IP) while also inducing groundball outs (1.55 GO/AO).
Jake Ehret, RHP -- Ehret began the year in Double-A, but he moved back down to the FSL in May. He did get another shot at the Southern League in late June, but he found himself back with Daytona in August. The 2014 14th-round pick out of UCLA finished with a combined 7.62 ERA and walked (30) nearly as many batters as he struck out (31). He started to right the ship with four scoreless innings over his first two AFL appearances.
Jonathan Mayo is a reporter for MLBPipeline.com. Follow him on Twitter @JonathanMayo and Facebook, and listen to him on the weekly Pipeline Podcast. This story was not subject to the approval of Major League Baseball or its clubs.