Inbox: Who is poised for breakout on Reds?
Beat reporter Mark Sheldon answers questions from fans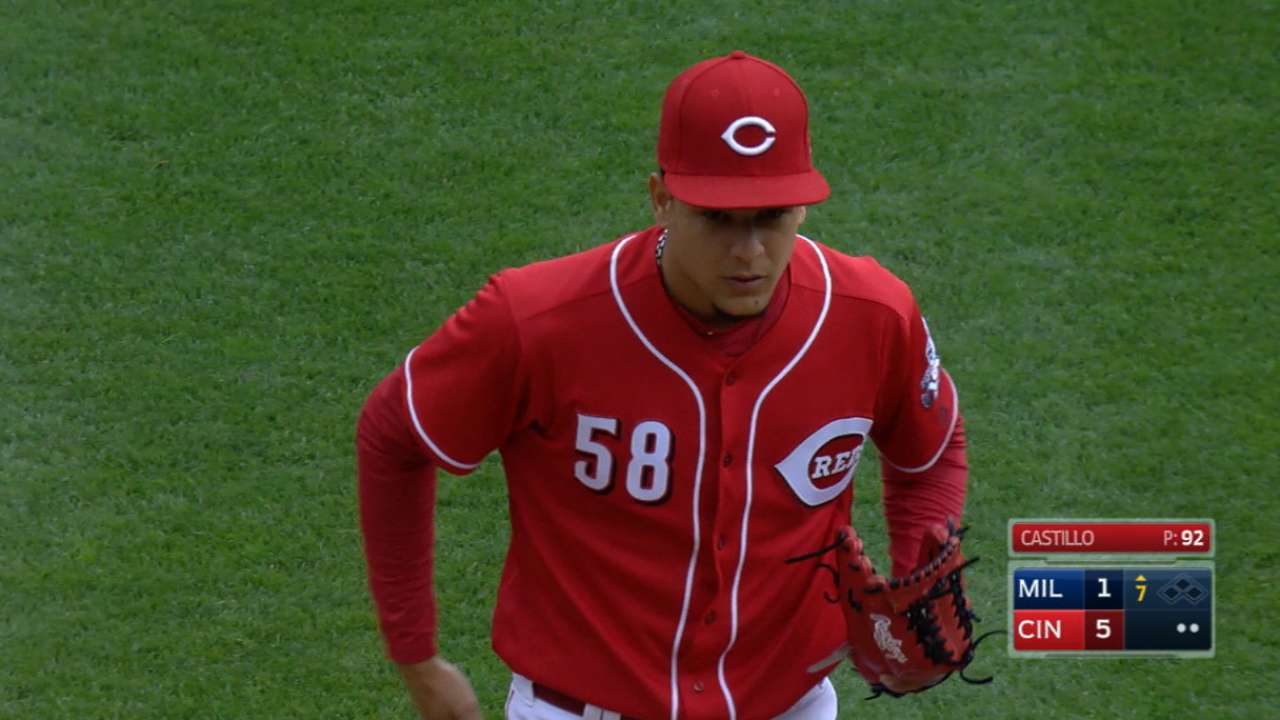 Which young pitcher do you think has the best chance to be a quality starter next season?
-- Shawn R., Vancouver, Wash.
Luis Castillo has every chance to have a breakout 2018 campaign. His 3-7 record in '17 is deceptive, as his other numbers show he was solid. He posted a 3.12 ERA in 15 starts (eight quality starts), with a 1.075 WHIP over 89 1/3 innings. This all came after being promoted to the big leagues from Double-A, skipping a Triple-A stint.
Beyond the numbers, Castillo is 24 years old and already seems to have command of four pitches. The right-hander can regularly top 98-100 mph and then beat hitters with the secondary stuff -- namely a changeup or slider. He also has a great tempo that the defense enjoys working behind.
• Submit a question to the Reds Inbox
Can you speculate as to the future of Devin Mesoraco in Cincinnati? I assume Stuart Turner will be in Triple-A next year since the Reds were able to keep him on the Major League roster all of 2017?
-- Tom G., Alexandria, Ky.
Mesoraco will be entering the final season of his four-year, $28 million contract. Over the first three years of that deal, hip, shoulder and foot injuries decimated his ability to play and produce, and he has played just 95 games with 57 starts. Tucker Barnhart has seemed to leapfrog over him and signed his own four-year, $16 million deal on Sept. 22.
How the future plays out for Mesoraco will be determined simply if he can stay off the disabled list. As for Turner, he will remain in the organization after the Rule 5 Draft selection spent the entire 2017 season on the big league roster. He could be in Triple-A in '18, but he is an option to return if something happens.
Would you like to see Nick Senzel at third base and Eugenio Suarez at shortstop? Or do you think Senzel at second base and leaving Suarez at third base?
-- Carl I., Dallas
Following a poor first half in 2016, his first season at the hot corner, Suarez has greatly improved his defense. He might not win a National League Gold Glove Award with Nolan Arenado around, but he would be a worthy a finalist this year, and it all came from hard work. Meanwhile, Suarez has also become a very good hitter, learning a lot from watching Joey Votto. Suarez can hit for power, draw walks and go to the opposite field.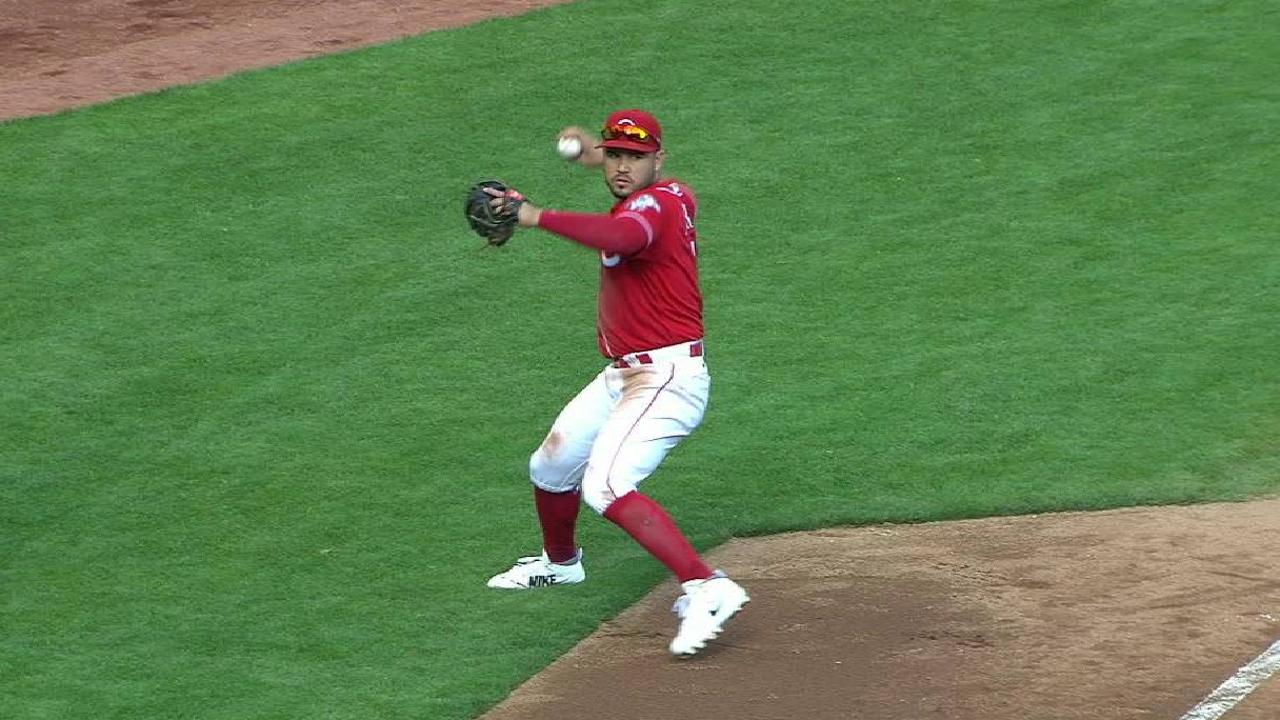 Senzel might be the organization's No. 1 prospect as ranked by MLBPipeline.com and the owner of a bright future, but I would not mess with the success that Suarez has had at third base. And Senzel isn't a big leaguer yet. He has experience at other positions -- second base and shortstop. It's an old baseball cliché, but if a prospect can hit and is ready for the Majors, a team will find a spot in the lineup for him to play.
You say that the Reds act quickly on bringing back players who will help the team. Why not bring Barry Larkin in to manage?
-- Anthony K., Cincinnati
Larkin, 53, has been back with the organization in an official capacity since 2015, as a special assistant to the general manager/player performance. He's at Spring Training each year to work with the big leaguers and Minor Leaguers, and he is a roving instructor in the system during the season. As for managing, I don't recall a time when Larkin has flat out said that he wants to be a Major League manager one day.
Unlike other recent Hall of Famers like Ryne Sandberg, Larkin has not started out in the Minors and worked his way through an organization before getting his shot. Obviously, that's not always a prerequisite. He's managed Brazil in the World Baseball Classic in 2013, but that was for a limited period. Larkin has other interests, particularly with his family, and being a roving instructor allows him to stay in the game on a flexible schedule.
Mark Sheldon has covered the Reds for MLB.com since 2006, and previously covered the Twins from 2001-05. Follow him on Twitter @m_sheldon and Facebook and listen to his podcast. This story was not subject to the approval of Major League Baseball or its clubs.