Duvall's assist a 'turning point' in Reds win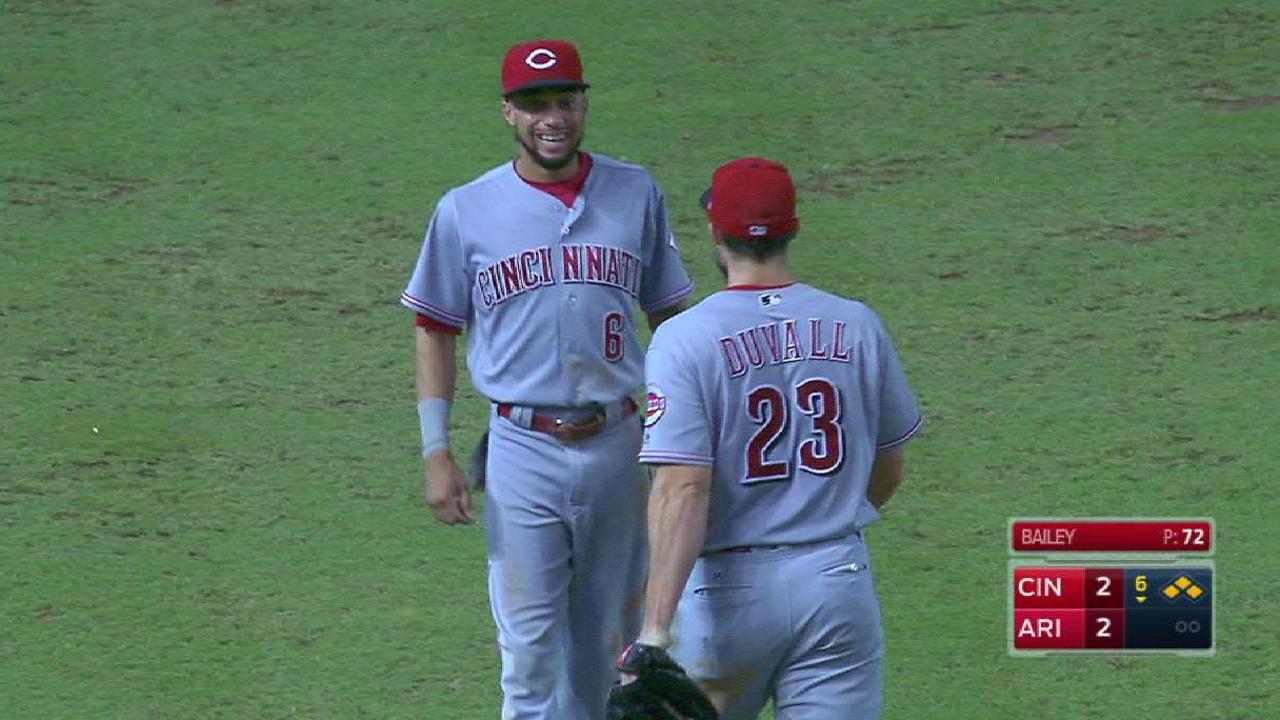 PHOENIX -- Reds pitchers haven't navigated their way to many wins this season in low-scoring, one-run games. When they do happen, it often requires some strong defensive work in the field, and left fielder Adam Duvall certainly checked in with the play of the day in the sixth inning.
Reds starting pitcher Homer Bailey might not have left town Sunday with a 2-1 victory over the D-backs without the perfect throw to the plate from Duvall, which stopped Paul Goldschmidt from scoring.
"I saw him pick it up, and you could see the ball come the whole way. It was definitely a good play," Bailey said.
After Cincinnati took a one-run lead in the top of the sixth, Bailey opened the bottom half with a Goldschmidt single and a Jake Lamb walk. Chris Owings followed with a ground-ball single through the hole into left field.
Duvall charged fast toward the ball, picked it up and came up throwing as Arizona third base coach Tony Perezchica waved Goldschmidt around third base.
"I try to get rid of it as fast as I can but at the same time be accurate," Duvall said. "I felt like I got a good jump on the ground ball and caught it up far enough to where I could make a strong, accurate throw."
You *could* run on @aduvall123, but we really wouldn't recommend it. pic.twitter.com/e5U4Jh7uOe

— Cincinnati Reds (@Reds) July 9, 2017
Reds catcher Tucker Barnhart was a little surprised that Goldschmidt was sent home because the ball wasn't hit very deep.
"Duvie throws the ball as good or better than anybody in the outfield in the league," said Barnhart, who also fielded shortstop Jose Peraza's fielder's choice throw to get Gregor Blanco out at the plate in the fifth inning. "When he comes up to throw, they're usually around the plate. It gives us catchers a chance to put a good tag on them."
Duvall's throw was perfectly placed for Barnhart, as it carried him in front of the plate to apply the tag.
"In that situation, I'm trying to make sure I give the guy a lane so I don't get called for blocking the plate," Barnhart said. "Then after the ball is let go, I've got to catch it. It led me into the base line, which I will take any time."
Goldschmidt was called out by umpire Brian O'Nora.
"When you're coaching third base, you're making an instinctual play. Tony has done a super job all year long," D-backs manager Torey Lovullo said. "If you go ahead and rewind it, I think we all probably understand it wasn't probably the right call to try and send Goldy. ... We all make mistakes."
Duvall, who has 20 home runs, leads all National League left fielders this season with seven assists.
"Everything had to go right on that play," Reds manager Bryan Price said. "You have to field the ball cleanly, you've got to have a quick transfer from glove to hand, and you have to have momentum and direction where you're going. And you have to be accurate. In those situations, you can't just be airmailing balls on the fly all the time or those backside runners are just going to continue to circle the bases."
Bailey wasn't out of the woods yet. He struck out the next two batters to escape any damage. But Duvall's play was the game-changer.
"It was possibly the turning point in the game," Barnhart said.
Mark Sheldon has covered the Reds for MLB.com since 2006, and previously covered the Twins from 2001-05. Follow him on Twitter @m_sheldon and Facebook and listen to his podcast. This story was not subject to the approval of Major League Baseball or its clubs.