Reds impressed with reliever Hernandez
Righty can hit triple-digits, has nasty curve, but roster spot is tenuous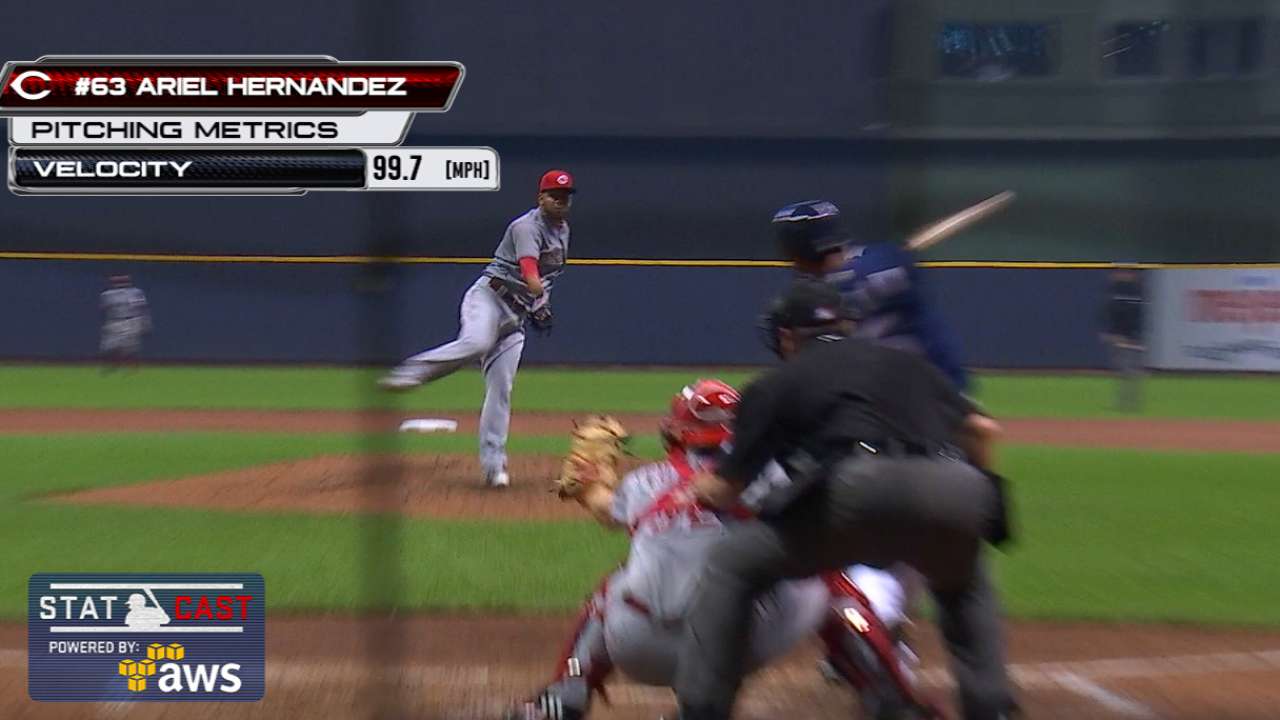 PHOENIX -- Reds rookie reliever Ariel Hernandez has only seven big league appearances on his resume. But Hernandez already has the ability to make hitters feel uncomfortable in the batter's box.
That's not just because the 25-year-old right-hander can throw a 100-mph fastball with seemingly little effort. It also has to do with the 87-mph curveball with a nasty amount of spin.
"I like that feeling. I like that they're a little scared," Hernandez said Sunday. "I take advantage of that. I just have to be over the plate."
Hernandez, a Minor League Rule 5 pick by the Reds from the D-backs in 2015, had a reputation for being wild once upon a time. He didn't pitch above Class A last season, but has demonstrated very effective command of his two best pitches in Double-A and the Majors in 2017.
Among pitchers with a minimum of 25 curveballs thrown this season, Hernandez's spin rate of 2,891 RPM is 11th-best in the Majors.
"You could make the argument that he has the best fastball and curveball in our organization," Reds manager Bryan Price said. "If you were a betting person, that would be a pretty safe bet."
Hernandez didn't have his best command, however, during Saturday's 7-0 win over his former organization; he allowed a pair of walks during a scoreless ninth inning. But he has a 1.54 ERA in seven appearances this season, with six walks and 15 strikeouts over 11 2/3 innings and three Major League stints.
Ariel Hernandez brings the to finish the shutout... #ATOBTTR!

FINAL: #Reds 7, D-backs 0. pic.twitter.com/lQtoiSneVN

— Cincinnati Reds (@Reds) July 9, 2017
In three of his games, Hernandez has worked two innings or more.
"I feel very good up here. I'm very excited to be up here. I'm trying to do something to help the team, whatever I can do," Hernandez said.
Opponents are 2-for-29 (.069 average) against him over the past 30 days, which is third-best among qualified relievers in the Majors. The league average is .254.
"Stuff, maturity and presence, I think he is very polished," Price said.
Hernandez was recalled from Triple-A Louisville on Wednesday when catcher Devin Mesoraco went on the disabled list. At some point when Mesoraco returns, the Reds will return to having a five-man bench and seven-man bullpen.
While Hernandez might be around after the All-Star break when play resumes on Friday, it will be a challenge for the Reds to keep him up for the duration of the season. Roster flexibility is the biggest issue, not Hernandez's ability.
"They have to be kind of movable pieces. If somebody goes long and you need a fresh arm, it's typically the guy with options and the guy who is easily movable," Price said. "Now that's not fair. Any of these guys, but in particular Ariel, could pitch himself into a position where we wouldn't want to consider that. In order for that to work, we need to create a situation where we have another movable piece. Right now, those other six guys are guys I anticipate are going to be here and pitching regularly."
Mark Sheldon has covered the Reds for MLB.com since 2006, and previously covered the Twins from 2001-05. Follow him on Twitter @m_sheldon and Facebook and listen to his podcast. This story was not subject to the approval of Major League Baseball or its clubs.