Price: Strong starting pitching will end funk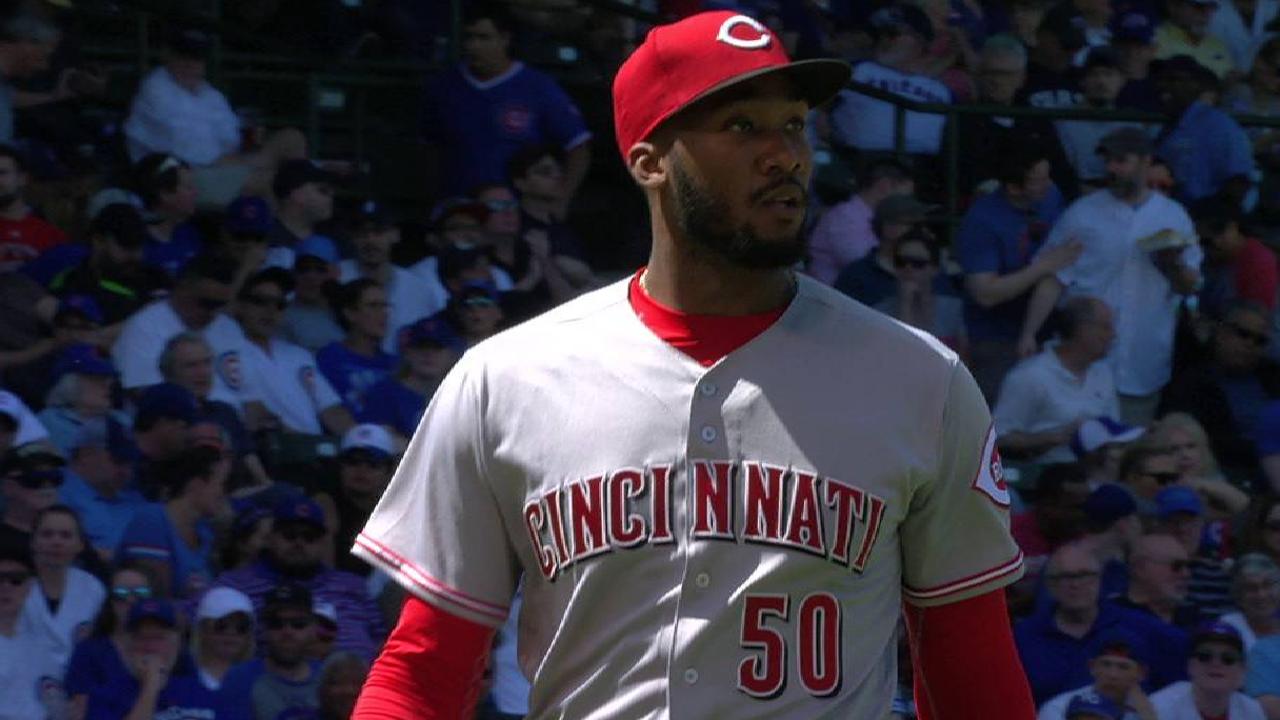 CHICAGO -- With 40 games in the books, the Reds are 19-21 and still in a competitive position in the National League Central. But inside that record has been some whiplash-inducing streaks.
The latest ebb is ongoing as a 9-5 defeat to the Cubs on Thursday afternoon at Wrigley Field extended the Reds' season-high losing streak to six games. What will it take for Cincinnati to get its flow back?
"I think it's pitching, starting pitching," Reds manager Bryan Price said. "We score. We have, I think, a really good offensive team, and a really good defensive team. When we're pitching well, we win."
Price pointed out that his club is 8-8 in May and accurately noted that in all eight wins, opponents were held to three runs or less. In six of the eight losses, Reds pitchers gave up seven or more runs.
During the losing streak, Reds starting pitchers are 0-5 with a 7.81 ERA. No starter worked more than five innings in the last five defeats. The rotation is ranked last in the Majors overall with a 5.57 ERA and second-to-last in in innings pitched.
Of the 40 games played, there have been only 16 quality starts of at least six innings pitched and three earned runs or less allowed. Because of injuries and some struggles by rookies, Price has been forced to use nine different starters.
Rookie Amir Garrett is the Reds' leader with five quality starts in seven games, but he was sent to Triple-A Louisville to limit his innings in an organizational decision. Upon his recall on Thursday, Garrett was beat up for six earned runs, five hits and three walks over four innings.
"Hopefully we can keep guys up in the big leagues that are doing well. That helps, too," Reds shortstop Zack Cozart said in a pointed comment. "We had a rough road trip last time and came home and played well, so we have to do that again. We'll be ready to play [Friday vs. the Rockies]."
Less than two weeks ago, the Reds were in first place. One week ago, they were four games above. 500.
"It's a rarity when you look back over a season and you find yourself down six or 7-0 after a few innings and say, 'OK, remember that game.' You remember about one a year," Price said. "And if it's a great year, you might remember two or three. Those are holes that in the big leagues are hard to dig out of."
As a team, the Reds have dug their way out of a bad stretch once before. Following a 7-2 start to the season, they dropped 11 of the next 14 games -- including a pair of four-game losing streaks. During that skid, the starting pitchers posted a 7.41 ERA while the offense was averaging 4.4 runs per game.
During both bad stretches, the bullpen stayed strong and the lineup often mounted late-inning comebacks. Unlike the past two years of rebuilding, when players often came to the park not expecting to win, the team has an expectation to succeed with its current makeup.
"There's no quit in us -- all throughout the whole team," Cozart said. "We're out there battling. There's no excuses from us. We just have to go out and play better."
Mark Sheldon has covered the Reds for MLB.com since 2006, and previously covered the Twins from 2001-05. Follow him on Twitter @m_sheldon and Facebook and listen to his podcast. This story was not subject to the approval of Major League Baseball or its clubs.