Powerful Duvall starting to heat up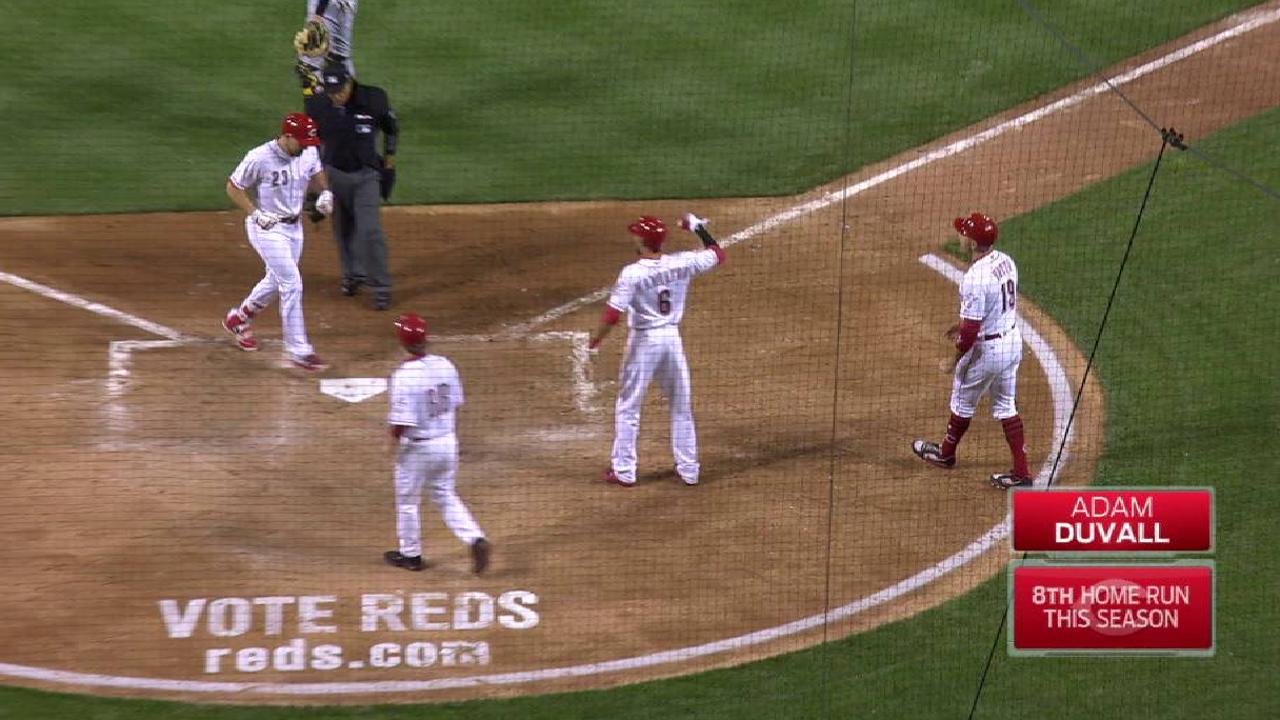 CINCINNATI -- When Reds left fielder Adam Duvall connected for a three-run home run against Gerrit Cole in the sixth inning during his team's 4-3 win over the Pirates in 10 innings on Monday, the 0-1 pitch he slugged to left field was a slider. The outcome should not have been too surprising.
According to Statcast™, Duvall entered Tuesday leading the Majors with a .929 slugging percentage on offspeed pitches (minimum 20 at-bats ending with offspeed). Freddie Freeman of the Braves was second at .862. In 2016, Duvall was second in that category.
"I don't look too much at what I hit, really, but how I am striking the ball," Duvall said. "I just try to put solid contact on the ball."
• Cast your Esurance All-Star ballot for Duvall and other #ASGWorthy players
Duvall, who was a breakout sensation for the Reds last season with 33 homers and 103 RBIs, is flexing his power again lately. In his previous 11 games, he has five homers and 13 RBIs, and his eight homers overall are tied for second on the team with Scott Schebler.
Reds manager Bryan Price wasn't surprised that Duvall was starting to heat up.
"The pressures are self-induced to want to go out there and have another repeat year," Price said. "The power component has always been there. He has always hit homers. He's always hit extra-base hits. He's always driven in runs. To do it at this level with the consistency is really what I fully expect. I don't see this kid taking a step back."
"I'm just trying to put the barrel on the ball," Duvall said. "I have a line drive approach. I don't feel any different than I have been, really."
Last season, Duvall had a slash-line of .241/.297/.498 and saw his slugging percentage drop in the second half as he drew more walks. He came into the night batting .250/.300/.576 over his first 24 games in 2017.
Slugging over .500 while owning a sub-.300 on-base percentage doesn't happen too often. Two examples are Tony Armas in 1985 and Dave Kingman in 1976. Duvall just missed that group last season and is in that vicinity again.
"You want good pitch selection, especially early in the at-bats," Price said. "I think it will always be something he tries to improve upon, but if he's a high run-producing guy that doesn't take a lot of walks, then that's something that will still be productive in my eyes."
Duvall isn't going to the plate looking to walk, especially knowing that he usually bats fourth behind Joey Votto -- who's often near the top of the league in OBP and walks.
"I feel like they're coming at me," Duvall said. "They're not necessarily scared of me or trying to nibble. ... I've never been a guy who has walked a lot. I don't know if I will ever be that guy. I don't know if I need to be that guy.
"They don't want to walk two guys in a row. With a guy in front of me that walks a lot, they're going to try and pound the strike zone right away. I have to be ready to hit."
Mark Sheldon has covered the Reds for MLB.com since 2006, and previously covered the Twins from 2001-05. Follow him on Twitter @m_sheldon and Facebook and listen to his podcast. This story was not subject to the approval of Major League Baseball or its clubs.