Peraza looks like starter at second for Reds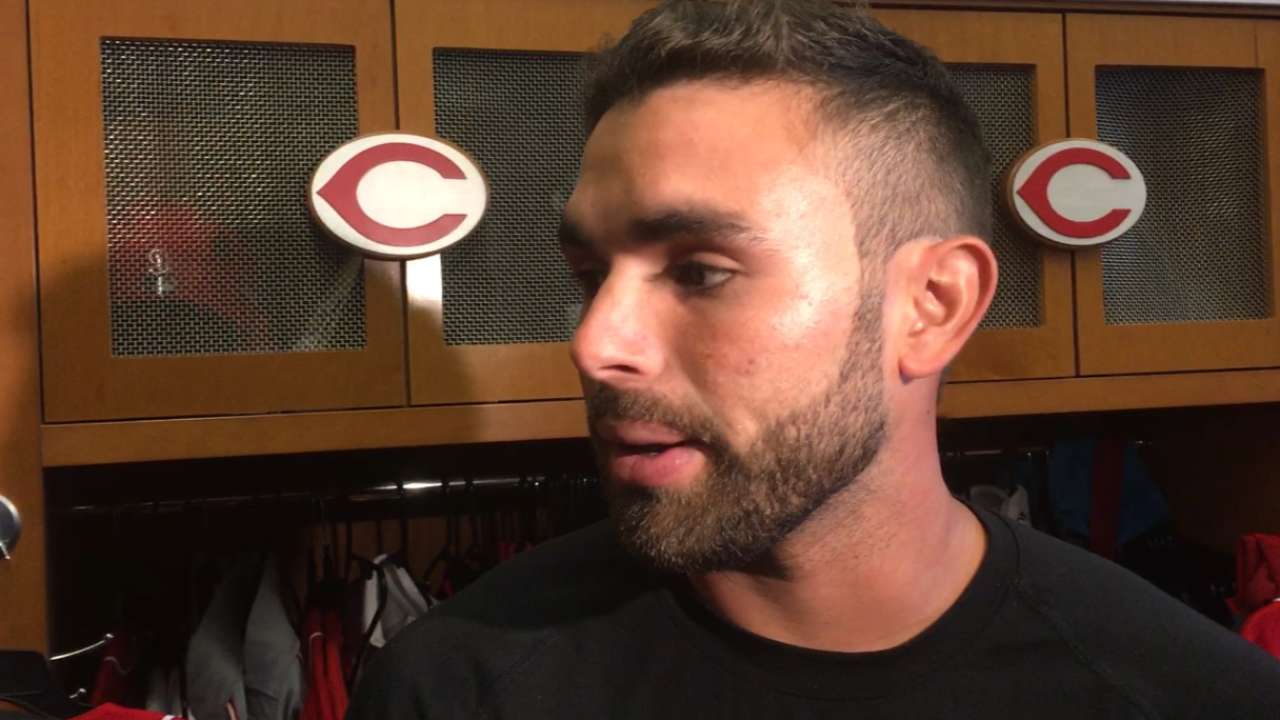 GOODYEAR, Ariz. -- For the first time since 2006, someone besides Brandon Phillips will be the Opening Day second baseman for the Reds. On Monday, as the club opened Spring Training, manager Bryan Price took the mystery out of who would be replacing Phillips.
Jose Peraza will likely get the nod over Dilson Herrera, who could still make the team in a role that Peraza was expected to have if Phillips stayed -- as a utility player who plays four games a week. Phillips was traded to the Braves on Sunday for two Minor League pitchers.
"Peraza, to me, based on his body of work last year at the big league level, is a big league regular," Price said. "Just for me going into Spring Training, he's a regular. He'd have to play his way off that opportunity. With Dilson, it's an opportunity to play in front of the big league staff and front office, and possibly discuss some alternative positions that would allow him to get on the field more frequently."
• Spring Training: Information | Tickets | Schedule | Gear
Peraza, who turns 23 on April 30, batted .324 with a .352 on-base percentage last season over 72 games, including 56 starts. He played four positions -- shortstop, second base, center field and left field -- and saw more regular playing time during the back end of the season filling in for the injured Zack Cozart at shortstop and Billy Hamilton in center field.
The Reds pursued trading Cozart, who like Phillips, will be eligible for free agency after the 2017 season. If Cozart is dealt during the season, both Peraza and Herrera would form the middle infield. For now, the Phillips trade was made so the club can see what Peraza can do.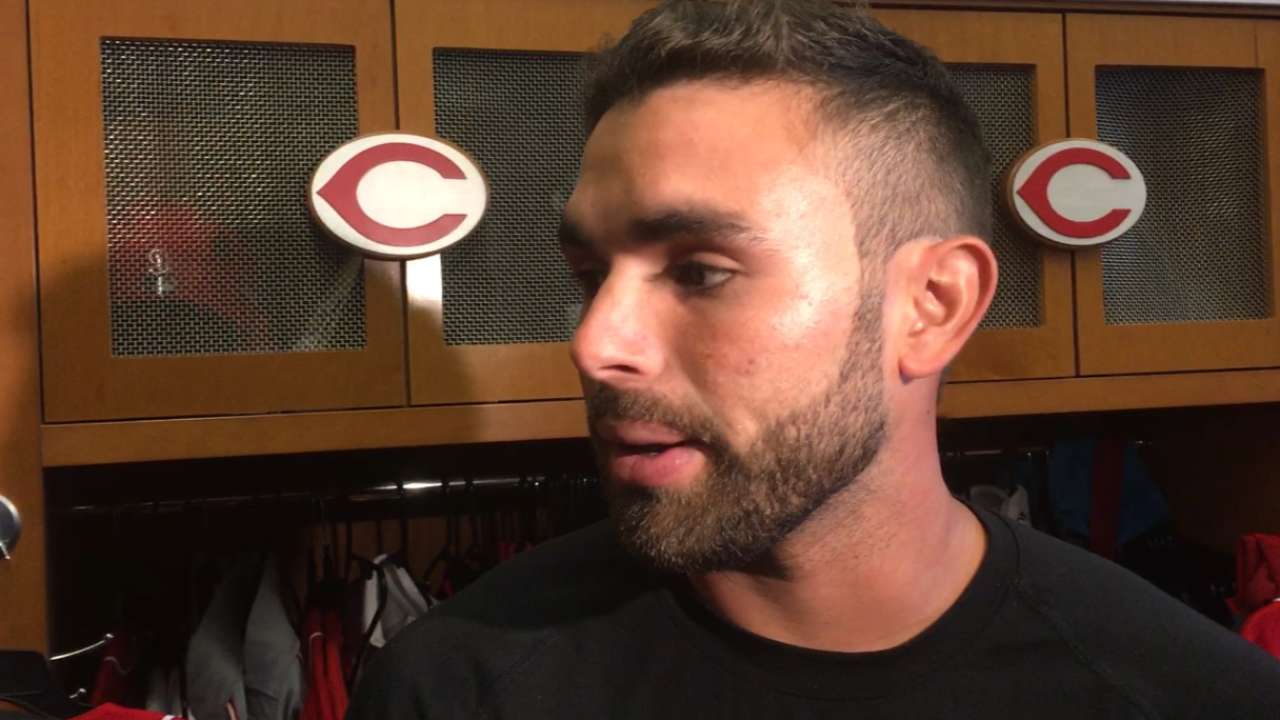 "Playing regularly at one position would be a great way for us to define if he truly is a regular second baseman," Price said. "Zack's not going to be a part-time player. Zack's going to be playing shortstop. Jose will get over there from time-to-time to spell Zack. I think we'll learn a lot more about him as a second baseman than we will as a shortstop here. Organizationally, I don't think we've discounted that he could play either position."
Peraza was ready for the challenge of earning a spot in the starting lineup every day.
"I'm here to work. I've been thinking about it," Peraza said via translator Julio Morillo. "The opportunity is there. I have to take it. I want to say thanks to Brandon, because I learned a lot of things about him, how to play second base. He taught me a lot. I wish him a really good year with the Atlanta Braves.
"Of course, in the future, I would like to play shortstop. Right now, this is the opportunity that I have. If it's playing second base every day, I'll play second base every day."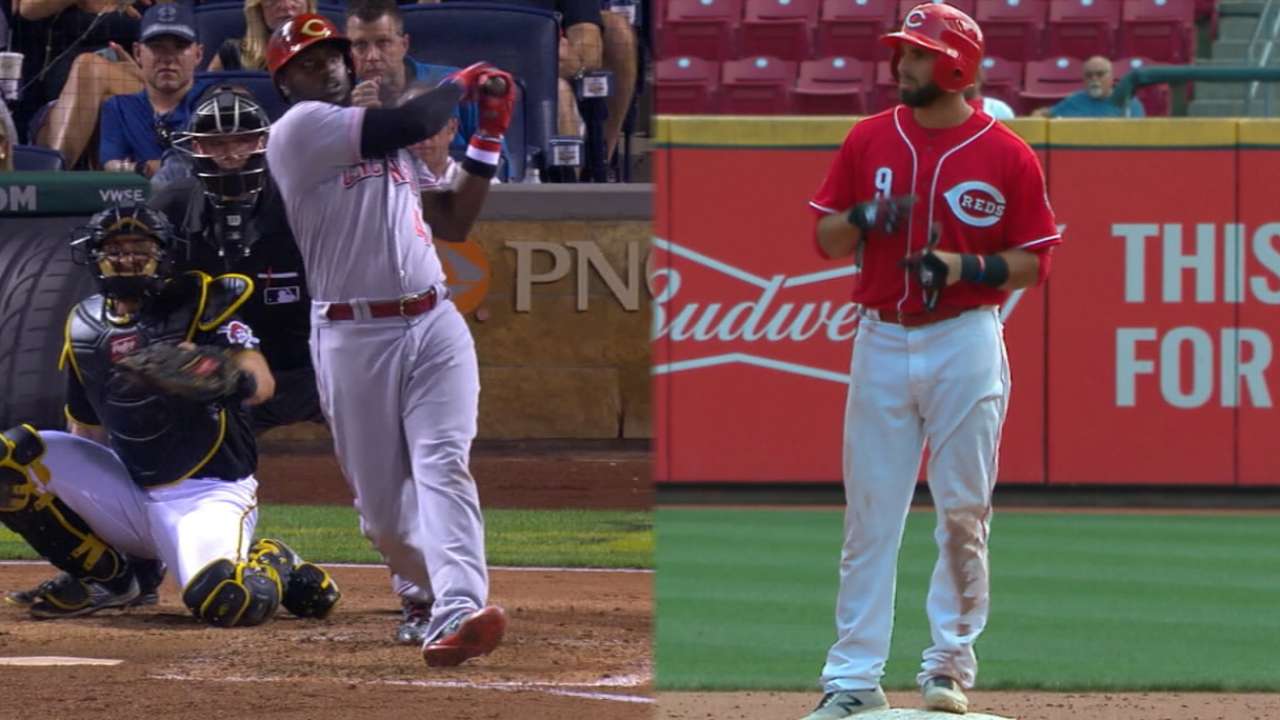 Herrera, who was acquired from the Mets in the Aug. 1 trade for right fielder Jay Bruce, did not see time above Triple-A last season as he batted .274/.335/..456 with 15 homers and 64 RBIs. During limited big league time with the Mets in 2014-15, he batted .215 over 49 games.
All of Herrera's big league experience, and most of his Minor League time, was at second base.
"I usually play second base, but we can try to move or practice at another position because you never know where you're going to [be]," said Herrera, who turns 23 on March 3. "I feel OK at second base, but if I'm going to try third base and shortstop, I'm going to work."
Meanwhile the Reds' clubhouse was still absorbing the trade of Phillips, who was acquired from the Indians on April 7, 2006, and had a mostly successful 11-year run.
• Reds deal Phillips to Braves for 2 pitchers
"It's tough," Hamilton said. "It's kind of like the Jay Bruce trade, once you get comfortable around some people, and Brandon was like a big brother to me, same as Jay was. You hate to see those guys gone, but you want what's best for them and what's best for the team. On the opposite side, as a friend, you still want them to be around."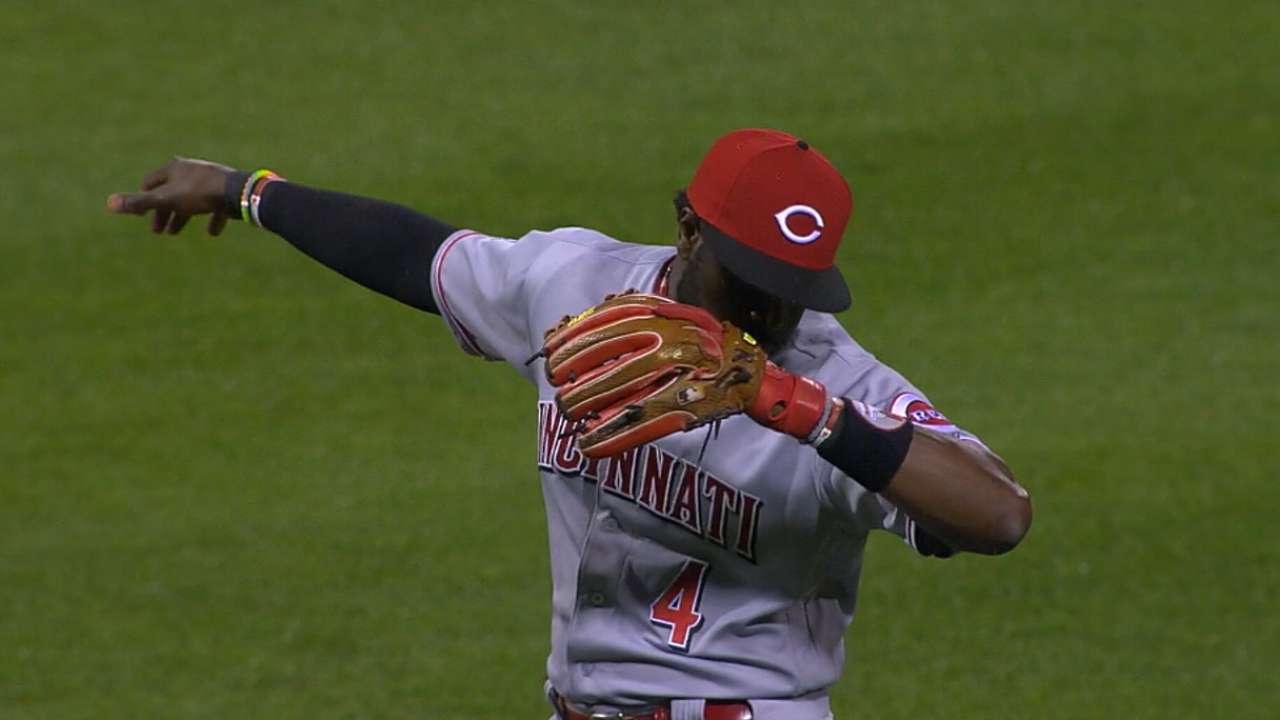 Like Hamilton, Peraza brings a lot of speed to the bases and the pair could score a lot of runs if they get on base ahead of Joey Votto. Hamilton stole 58 bases in 2016 and Peraza swiped 21 -- but was caught 10 times.
"I definitely think it's going to be fun, especially with me and him 1-2," Hamilton said. "There are things I've seen him do on the bases and things I can do on the bases, and things I can help him with that I kind of started doing a little bit toward the end of the season when he started stealing bases."
Mark Sheldon has covered the Reds for MLB.com since 2006, and previously covered the Twins from 2001-05. Follow him on Twitter @m_sheldon and Facebook and listen to his podcast. This story was not subject to the approval of Major League Baseball or its clubs.