MLB.com Columnist
Megan Zahneis
Piniella recalls Reds' 1990 title club, great fans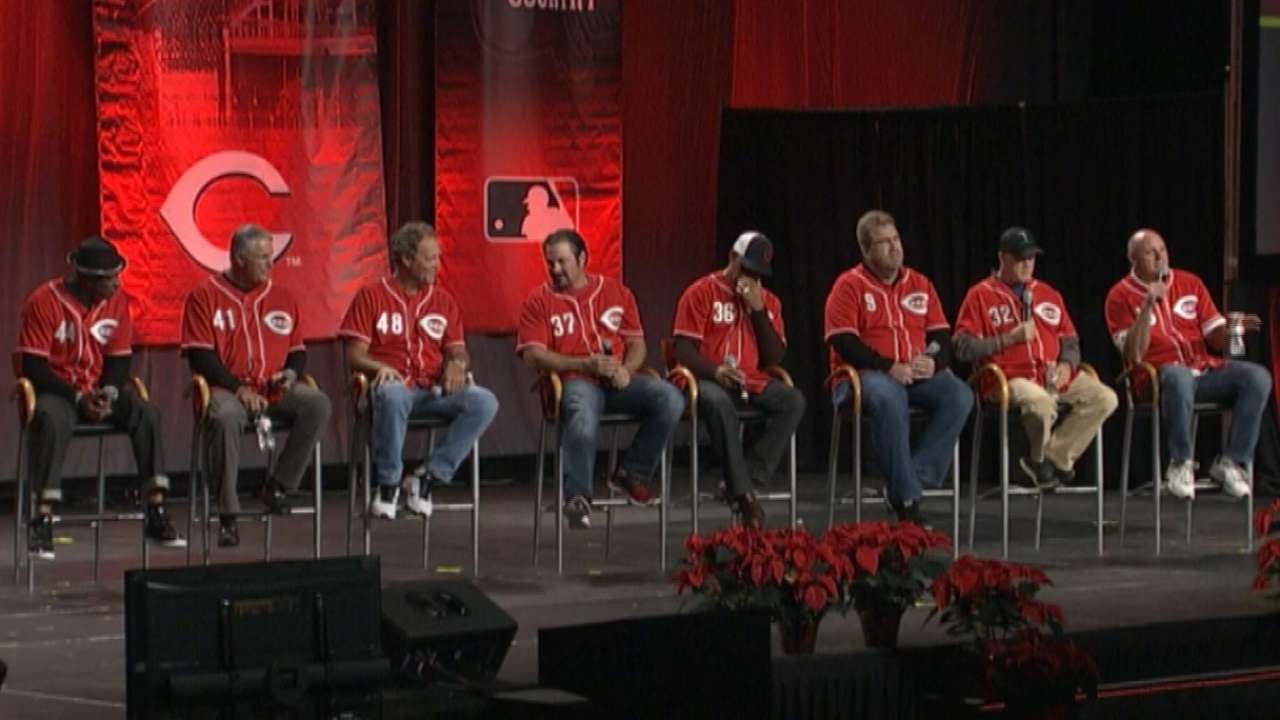 CINCINNATI -- Fomer Reds manager Lou Piniella made the trip back to Cincinnati for Redsfest and received a warm welcome from players -- current and former -- and fans alike.
Piniella, of course, is revered in Cincinnati for helming the 1990 World Series-championship club, an accomplishment that placed him in the company of Reds managerial greats like George Lee "Sparky" Anderson.
Piniella's presence this weekend was made even more special by its timing -- 2015 marked the 25th anniversary of that "Wire-to-Wire" Reds run. Though Piniella was unable to attend the midseason celebration of the 1990 club -- held at Great American Ball Park -- due to his nephew's wedding, he relished the opportunity to commemorate the occasion with fans and a few of his former players over this weekend.
"It's always fun coming back," Piniella said. "And seeing the players, being able to talk to them, to see how they're doing; also, seeing our fans that supported us so well. Cincinnati's a great sports town, and it's a great Cincinnati Reds baseball town," Piniella said, reflecting on the 1990 season.
"I was fortunate. I came here and I had some young players who could play, we won a world championship, and it's nice to come back and say hello to these people from time to time."
Piniella also got to greet his protégé, current Reds skipper Bryan Price, over the weekend. Price got his coaching career started as Piniella's pitching coach in Seattle in 2001, and he would serve in the same capacity for the D-backs and Reds before slotting into the manager's role.
"He's a good baseball man," Piniella said of Price. "I know last year the team didn't do very well, but I'm hoping that this year, the Reds play a lot better, win a lot more games. It makes it a lot more fun for the manager and his coaching staff."
While Price seems to have his work cut out for him in order to restore the Reds' winning ways, Piniella says earning his players' respect is half the battle.
"Look, it's not easy for a young manager. It really isn't," Piniella said. "You've got to learn the ropes and the job a little bit. The important thing is that the players respect you and play for you. If you can get that, you've got a good chance."
A good chance -- that's exactly what Piniella had when he took over the Reds at the start of 1990. And though his three-year stint in Cincinnati was just one stop along the way -- his managerial career also brought him to such diverse markets as New York, Seattle, Chicago and St. Petersburg -- Piniella is equally as fond of the Queen City now as when he left it.
The 72-year-old, who also came to Redsfest to mark the 20th anniversary of the 1990 World Series victory, was impressed with the turnout Friday and Saturday.
"The Cincinnati Reds are bigger than life here," Piniella said.
Meggie Zahneis is a reporter for MLB.com. This story was not subject to the approval of Major League Baseball or its clubs.