Right-hander Iglesias nearing innings limit
Rookie has struck out 87 over 80 1/3 Major League innings this season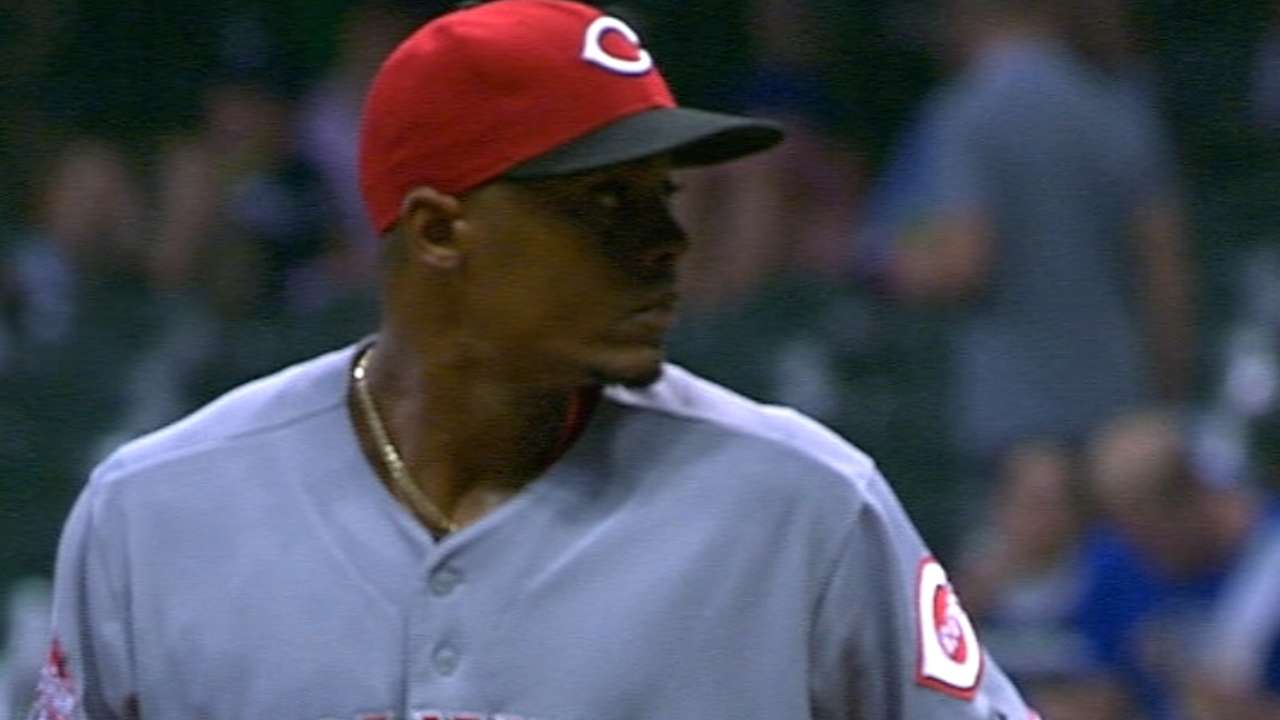 MILWAUKEE -- Raisel Iglesias appears to be pitching his best lately, and looking his strongest, but the Reds rookie starter could soon be nearing an innings limit that would take him out of the rotation.
Reds manager Bryan Price is not revealing what that number of innings is. Following his seven innings during a 5-0 loss to the Brewers on Friday, the 25-year-old had 109 1/3 innings combined this season in the big leagues and Triple-A Louisville.
"We have a number of innings that we're comfortable with," Price said on Saturday. "The other part, really, is the eye test to see if there's a fatigue or lack of command or just a general malaise to his body."
There has been little evidence of any of that from Iglesias, who has a 2.33 ERA with 10 walks and 45 strikeouts over 38 1/3 innings in six August starts. He's been throwing with higher velocity as well. In 15 games overall, including 13 starts, he is 3-6 with 3.92 ERA.
Documenting Iglesias' innings history is somewhat difficult for the Reds. He pitched 82 2/3 innings for his Cuban professional club in 2013, but that didn't count national team innings and frequent intrasquad scrimmages his teams played. In 2014, Iglesias didn't pitch competitively as he waited for a visa in Haiti following his defection from Cuba, but did work seven innings in the Arizona Fall League.
"I think he's actually rounding into form," Price said. "He has that delivery similar to Bronson [Arroyo], even though he throws harder than Bronson. I don't think it's as demanding a delivery as a guy who is constantly over the top. That low three-quarters and periodic drop-down is a little easier. That doesn't mean we're not going to be conscientious of his innings. Right now, the eye test would suggest he's just fine. But he certainly will in short order be approaching an innings number that we're comfortable with."
Iglesias was signed last summer by Cincinnati to a seven-year contract worth $27 million, with a $5 million bonus. He has fit in well with his new team, on the field and in the clubhouse.
"His maturation has moved more rapidly than anybody else here in my opinion," Price said. "The first thing was can he start here? Does he have the stuff, the temperament, the mix of pitches to be a Major League starter? I think he's answered that question with an exclamation point."
Worth noting:
• Reserve outfielder Brennan Boesch tested his sore right ankle with batting practice on Friday and was scheduled to do so again Saturday. Boesch suffered a deep bone bruise last Saturday when he fouled a ball off of his ankle.
• Lefty reliever Sean Marshall had his latest bullpen session on Friday. Although he hoped to be facing hitters in the near future, Price said that Marshall wasn't quite there yet and needed more repetition on the mound.
Mark Sheldon is a reporter for MLB.com. This story was not subject to the approval of Major League Baseball or its clubs.