Reds' Meetings moves open door for future additions
Club trims payroll by dealing Latos, Simon on final day; bat, bullpen depth on winter list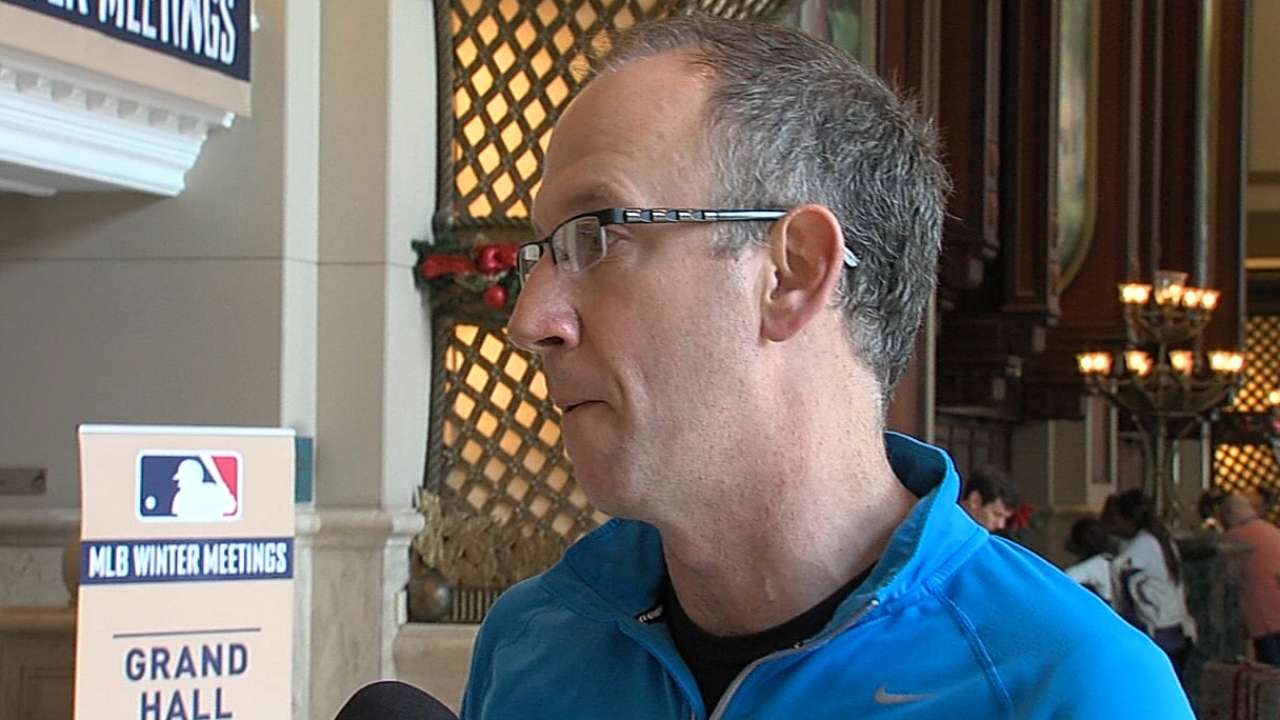 SAN DIEGO -- It was a busy Winter Meetings around baseball, and by the time it was all wrapped up on Thursday, the Reds were right in the middle of the action.
It had been five years since the Reds made a trade during the Winter Meetings. Then they completed two deals within one hour by sending starting pitcher Mat Latos to the Marlins and fellow starter Alfredo Simon to the Tigers. Both trades brought young talent in return.
But the prime motivation behind the moves was to clear payroll space, and it is not a sign that a rebuilding effort is about to begin. Reds general manager Walt Jocketty felt the trades enabled his club to accomplish its overall offseason plan to contend in 2015.
---
Winter Meetings action
Day 4: Dec. 11
Transaction
Official?
OF Matt Kemp
C Tim Federowicz
Traded to Padres
No
C Yasmani Grandal
RHP Joe Wieland
RHP Zach Eflin
Traded to Dodgers
No
OF Yoenis Cespedes
RHP Alex Wilson
Traded to Tigers
Yes
RHP Rick Porcello
Traded to Red Sox
Yes
RHP Ervin Santana
Four-year deal with Twins
No
LHP Mat Latos
Traded to Marlins
No
RHP Anthony DeSclafani
C Chad Wallach
Traded to Reds
No
RHP Justin Masterson
One-year deal with Red Sox
No
RHP Alfredo Simon
Traded to Tigers
Yes
RHP Jonathon Crawford
IF Eugenio Suarez
Traded to Reds
Yes
LHP Ross Detwiler
Traded to Rangers
No
OF John Mayberry Jr.
One-year deal with Mets
No
RHP Andre Rienzo
Traded to Marlins
Yes
LHP Dan Jennings
Traded to White Sox
Yes
"We're in a better position to start looking at some other possibilities to improve our club -- the hitter we're looking for and some bullpen depth," Jocketty said.
For now, the Reds are done subtracting, Jocketty felt.
"We're close to where we need to be, [payroll-wise]. Now we can concentrate on filling some of the needs," he said.
Jocketty appeared willing to listen on any trade proposals that came his way, even if they involved the likes of ace Johnny Cueto, closer Aroldis Chapman and others.
Cueto, Latos, Simon and Mike Leake were all one year away from free agency. The Reds knew they could not give all of them extensions. Negotiations began with Cueto's agent, Bryce Dixon, during the Meetings.
"I'm not sure we'll be able to do that or not," Jocketty said. "It's something we'll explore, obviously."
In the meantime, Jocketty believes the Reds can still be a factor in a National League Central division that got tougher this week.
"I think so. I'd like to improve left field, but I think the rest of the club will be very strong," Jocketty said. "The key for us is our guys that were hurt last year coming back 100 percent and performing like they're capable of."
It was a week where free-agent Jon Lester was signed by the Cubs, who also acquired catcher Miguel Montero from the D-backs. Matt Kemp was traded to the Padres from the Dodgers, and Yoenis Cespedes went from the Red Sox to the Tigers for Rick Porcello. The Pirates also reportedly re-signed lefty starter Francisco Liriano.
And those were only some of the deals that went down.
"It's been extremely busy," Jocketty said. "I think there are more transactions here than there have been the last couple of years. That's good. I remember as a kid this was always a fun time as a fan to watch the activities of the Winter Meetings to see what was going on. I'm sure this is stirring up a lot of interest in baseball, which is great for our industry."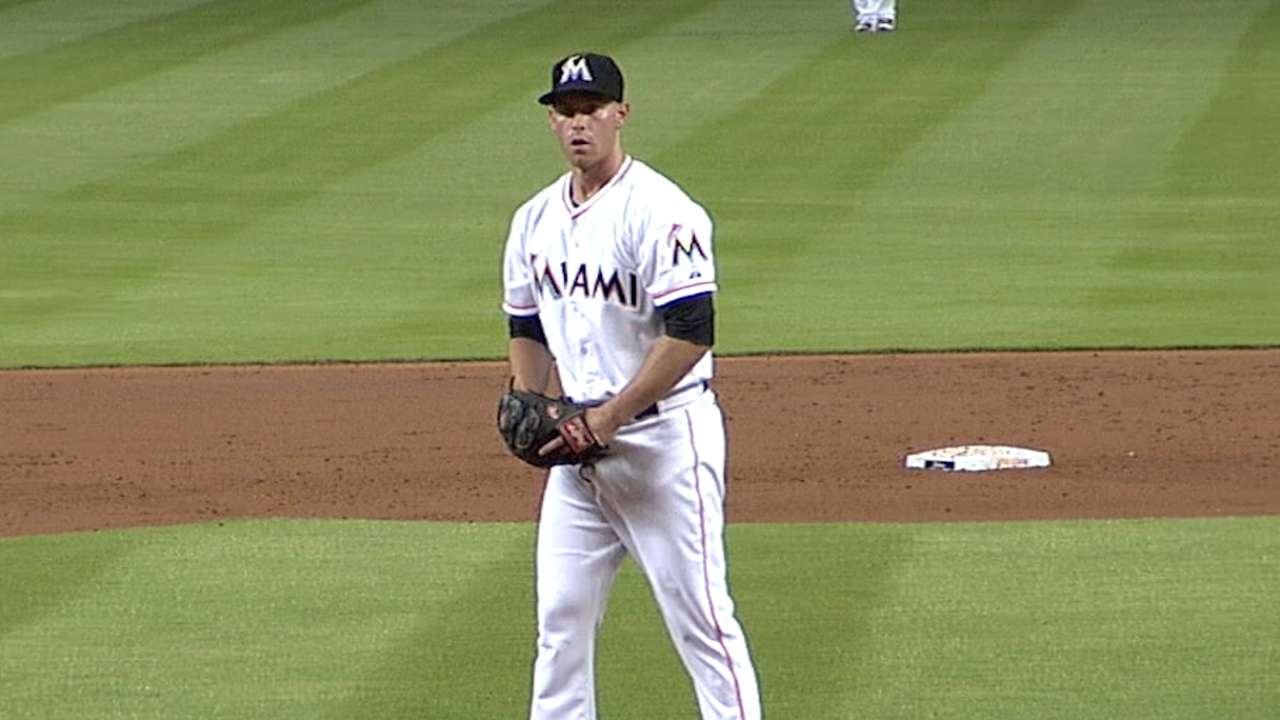 Here is a look at the week that was for the Reds at the Winter Meetings:
Deals done: Simon was traded to the Tigers for right-handed pitcher Jonathon Crawford and infielder Eugenio Suarez.
Latos went to the Marlins for right-handed pitcher Anthony DeSclafani and Minor League catcher Chad Wallach.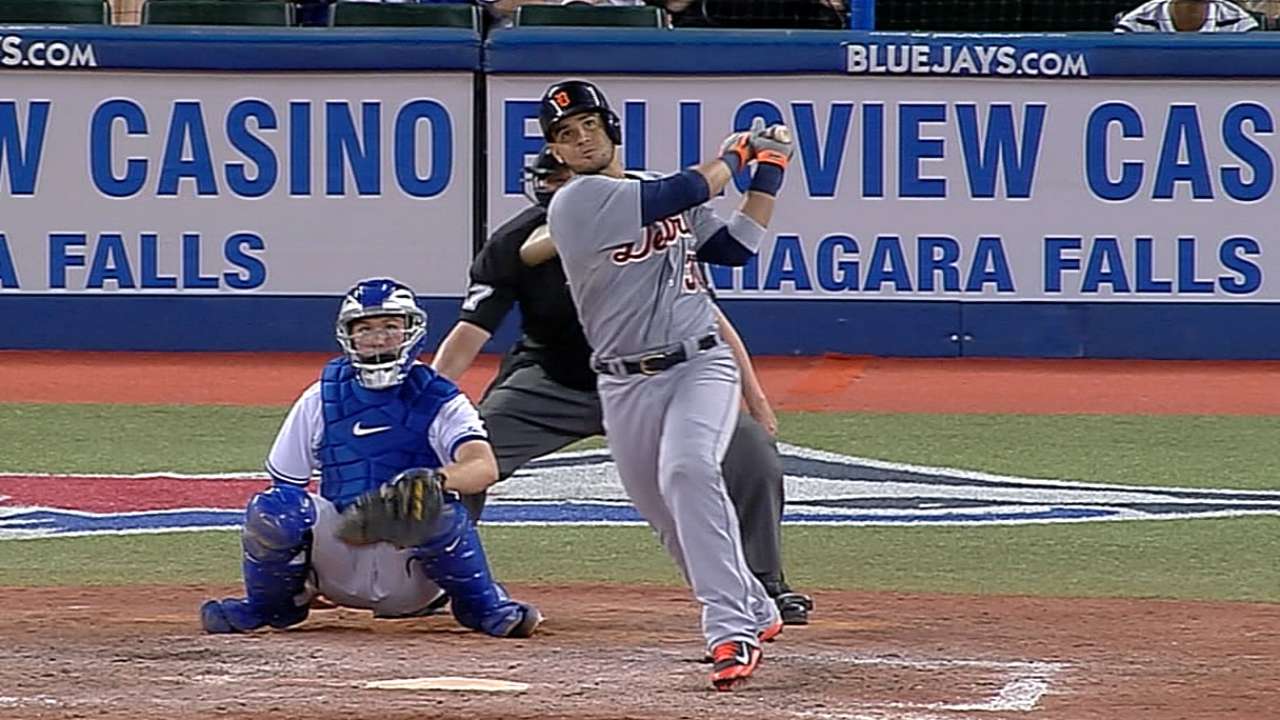 Rule 5 Draft activity: None in the Major League phase. In the Triple-A phase, the Reds added catcher Camden Maron from the Mets' Double-A Binghamton roster and right-handed pitcher Euclides Leyer from the White Sox Class A Advanced Winston-Salem roster.
Cincinnati lost Triple-A Louisville pitcher Tim Crabbe to the D-backs and Class A Bakersfield first baseman Harold Riggins to the Marlins.
Goals accomplished: The Reds were an enigmatic team this week because they were unable to make any additions to the team without first subtracting players and payroll. Both Latos and Simon were due significant raises in arbitration, and Jocketty knew it would be tough to give them long-term contract extensions after their final year of club control.
Unfinished business: Plenty. The Reds still need to upgrade offensively by acquiring a regular left fielder and add bench and bullpen help. These moves could come via trades, but Jocketty prefers to make additions through the free-agent market because he would not have to give up more players in return.
Bottom line: "We had certain goals we set when we came to San Diego, and we're slowly getting to the point where we achieve those goals, and it's a kind of been a two-or-three-step process to put us in a position to being contenders next year." -- Jocketty
Mark Sheldon is a reporter for MLB.com. Read his blog, Mark My Word, and follow him on Twitter @m_sheldon. This story was not subject to the approval of Major League Baseball or its clubs.